Get your kicks on the beach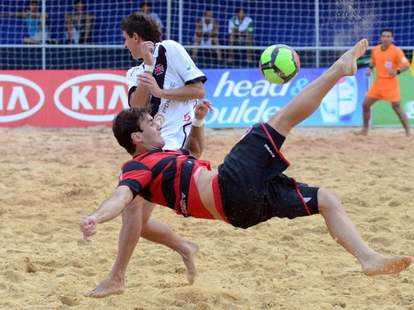 If there's one thing Miami loves, it's being in a bathing suit all day. If there're two things Miami loves, they're being in a bathing suit all day and cocaine. Oh, and beaches and soccer. Combining at least the last two: Beach Soccer Worldwide Miami Cup 2011.
This completely free, FIFA-sanctioned, three-day tourney on Miami Beach is the first ever of its kind, pitting teams from Mexico, Spain, the US, and Brazil against each other in a furious sand-soccer competition with modified rules and higher scores -- averaging out to 11 total goals in a much shorter match, leading soccer purists to hate it, because people might actually watch it. Most standard rules apply, but the five players on each side (who can sub in and out at will) will be shoeless and kicking a lighter ball towards a slightly smaller goal on a 40yd-long field for three 12min periods; because it's harder to move the ball along the ground, there tend to be more bicycle kicks and similarly crazy moves, and because the field's shorter, it's possible to score from just about anywhere, unless of course you're A.C. Milan Green. At the end of the round robin setup the trophy will go to the highest-point-accumulating team, which'll include pro(ish) players from around the world, which seems like a lot of legwork, considering there's one right in Miami Gardens.
Because everyone loves beach soccer already, there'll be a celebrity tourney on Sunday as well; participants're still being confirmed, though rumor has it that they're wooing both Luis Figo of Portugal and Carlos Valderrama of Colombia, and if there're two things that place loves, they're...beaches and soccer. And definitely nothing else you've read about recently.