A retro party space hidden on South Beach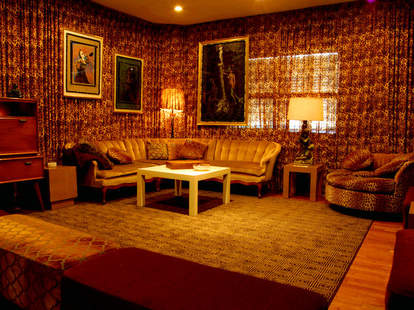 Partying in someone's house is the best: you don't pay for drinks, there're usually snacks in the cupboard, and their mom's bathroom is way better for laying the pipe in than your CRX. For a hidden party spot in someone's truly dope home, track down Private Residence.
Literally the digs of South Beach nightlife pioneer Debbie Ohanian (she ran Starfish downstairs in the 90s, and now rents that space to Barton G's resto), Private's a...private...event space with a resident DJ and catering, which doubles as a 100% free booze Saturday night underground party, with the throwback vibe of a place where Roger Sterling would bang a plump secretary while thinking what a herb Don Draper is. You'll enter through a nondescript side door on 14th Court with a "private residence" sign, then climb a narrow staircase that opens into four party zones: a central living room with leopard print walls, vintage 60s furniture, and kitsch like Buddha statues and wooden checkerboards, a side study with bookcases and velvety chairs, a bar room with a dance floor, DJ booth, and conga drums you're free to beat, and a palm frond-rimmed outdoor terrace overlooking the garden of Barton G, who's better at cooking, but far worse at regulating than his brother Warren. If you wanna rent the joint out, you can cram in 100 peeps and get catering from downstairs plus tunes by DJ King Domino, who spun in early South Beach joints like Club Beirut and the Kitchen Club, and packs a music library running from Sinatra, to old school hip hop, to classic salsa like El Gran Combo, which'd damn well better be pizzeria pretzel.
The Saturday night bash runs from 10:30pm to 3 in the morn' and pours comp vodka, rum, and whiskey (you're also encouraged to bring a liquid donation, but not beer, as it stinks up the place); tunes start with relaxed house and Motown before progressing to dancehall, deep house, and nudisco -- exactly what you were doing in that CRX, until the gearshift tried to get in on the action.