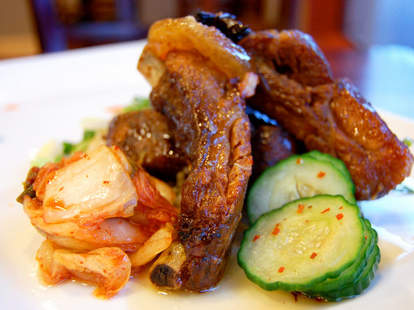 You can pick up all kinds of things when you travel, like how to say "bathroom" in a foreign language, and antibiotics, to cure what you picked up in what you can now confidently call a bano. For a restaurant employing delicious food tricks acquired while traveling, hit Sakaya.
A hip, colorful little counter service spot with bistro tables and an open kitchen crafting a menu of pan-Asian dishes, Sakaya's from a chef whose tutelage at NYC's famed Vong inspired him to travel the streets of Southeast Asia in search of unique cooking techniques, and DVDs of lamentable quality. The menu shuffles daily, with smaller stuff including a hybrid miso soup with wonton noodles, roasted garlic/bean sprouts, and chicken breast; a mixed green salad with grilled add-ons like chicken, shrimp, pork, or Galbi-style beef short rib marinaded in soy/brown sugar/pear; and Papa's Shrimp & Pork Egg Rolls, derived from a Filipino family recipe, and loaded with French green beans instead of cabbage -- a sure sign of the impending apocalypse. Full-sized eats include a rice box combo with kimchi and either grilled BBQ-spiced chicken breast or ribs done up with Chinese honey orange; Korean-style chicken wings that're fried twice then tossed in a soy/brown sugar/ginger/chili sauce; and baby back ribs that're roasted for three hours and plunged in a honey/cinnamon/orange sauce after being dry-rubbed over night, much like your prom date.
Adult libations include wines like Cain Five Cab blend from Napa and Sea Smoke "Southing" Pinot Noir plus beers like Kirin and Asahi Super-Dry. As the chef's also a sommelier, he recommends sake pairings: Mantensei "Star Filled Sky" matches well with spicy foods like the wings, and for the ribs, he recommends Fukucho's "Moon On The Water", which you've learned is exactly what you shouldn't do in malo banos.