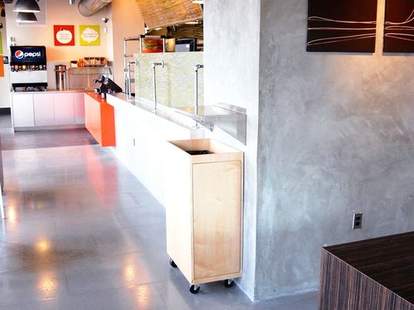 Hugo Chavez has made no secret of his desire to turn all of Latin America into a united front under Venezuelan leadership, but who cares, cause he's crazy and fat. Taking a less combative, more delicious approach to uniting the region, Salsa Fiesta.
The workings of a Venezuelan couple who nobly introduced Mexican tacos and burritos to Caracas for 15 years before heading stateside, counter-service Fiesta's whipping up easy-on-the-wallet grub in a space that mixes the raw industrial feel of cement walls and exposed pipes with colorful accents and an open kitchen, all under the slogan, "When we mix languages we have more words...when we mix ingredients we have more flavor!", although hopefully not in VH1 reality-dating-show format. The taco menu gives you meat choices (grilled chicken, ground beef, steak, grilled mahi, roasted pork) to pop into any of three styles: Original (pico, guac, jack & cheddar), the protein-intensive Macho (pinto or black beans, lettuce, sour cream, jack & cheddar), and the tropical Guerrero, with onions, shredded cabbage, cilantro salsa, cheese, and mango relish -- the very phenomenon tourists experience when visiting a certain Ocean Drive club. Burritos get jammed with the same meat options, plus style choices like the straightforward Guacamole (cilantro-lime rice, lettuce, guac, pico), the Mexicano (plus roasted sweet corn, beans & cheese), and the fish-friendly Durango: mango relish, chipotle salsa, sour cream, and shredded cabbage, whose current body's a direct reaction to all the teasing he got for being such a fat little Patch Kid.
For days when you've already had three burritos, lighter fare includes traditional tortilla soup, plus tostones (fried green plantain) smothered in melted queso, guac, pico, beans, and sour cream. Fiesta also carries sodas from Boylan's -- just be sure to order yours diet, unless you're looking to get all Hugo. Y'know, crazy!