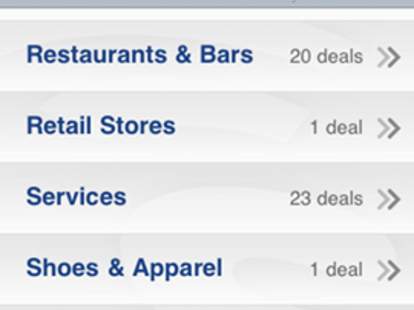 Coupons are a great idea, but who wants to spend all that time cutting up the backside of The Family Circus for 24 cents off kitty litter, especially when Billy has such an important lesson to learn from his cloud-riding dead grandparents? Skip that noise, and get worthy deals delivered to your mobile device, with Shooger.
Outta Coral Gables and primarily serving South Fla, Shooger's an iPhone app/text service that sends you tailored, hot-off-the-griddle deals/coupons from local businesses, where you can cash in just by flashing your phone, which, while it sounds fun, is never as rewarding as flashing your genitals. Once you're signed up, the iPhone app offers a couple ways to locate savings: the "nearby" function serves up offers based on where you are, or you can search through categories like restaurants & bars, electronics, shoes & apparel, sports & recreation, travel & transportation, automotive, dentists & doctors, etc; once you find a deal you like, tapping on the coupon gives you a map, driving directions, the merchant's website, and a tap-to-call option -- so you can ask if their drop-in plastic surgery stays open late, since you just plowed into a 7-11 while learning more about them. There're currently close to 4,000 businesses involved, with potential deals including 1/2 price on personal training sessions and tanning at Planet Fitness, 2-for-1 wiener schnitzel at Fritz & Franz Bierhaus, 2-for-1 Moleca cocktails at LoveHate, as well as cut rates on concerts that don't look like they're going to sell out -- a great indicator of must-see shows.
If you don't have an iPhone, they can shoot you texts suggesting deals from different joints, which you can either keep getting or tell Shooger to stop. On the iPhone, you can sign up for similar "Deal Alerts" for specific stores, restos, and bars, and you can also purchase stuff online by redeeming coupons via the app -- far less embarrassing than showing up at PetSmart and realizing you didn't even bring the right coupon, and that Marmaduke really isn't funny.