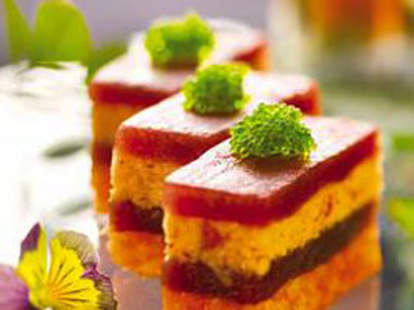 The truly superior arts are handed down from generation to generation: Socrates tutored the hell out of Plato, and your dad taught you how to piss off your mom. For a resto reaping the benefits of torch-passing, Sushi Sobe.
SS just staged a food coup on the Loews' sprawling lobby, installing heavily grained Asian-rustic communal tables, and a hardwood sushi bar decked with bonsai, all to deliver a menu crafted by one of only seven master sushi chefs in the US, then entrusted for day-to-day to his young protege. Food's firmly rooted in eons-old sushi technique, but gets creative with presentation and a bit of pan-American flava, with apps like Cajun beef tataki (seared tenderloin, daikon, garlic ponzu); hamachi carpaccio with pico de gallo, daikon, and cilantro; and the "Smoking" cocktail: diced tuna with spicy ponzu floating in a fog-spewing bowl (showy, but earlier versions arrived wearing kabuki makeup and platform boots). There's also classic sushi/sashimi by the piece, and a robust roll selection using creative Western elements, like the "Tropical" (big eye tuna, avocado, salmon, topped w/ a mango slice), "Sushi Sobe" (a layer cake-esque cube of tuna, salmon, snow crab, avocado, rice, & habanero masago), and "Crunchy Eel", w/ eel, snow crab salad, avocado, & cream cheese, all tempura'd into a hot mess and drizzled with sweet eel sauce -- an embarrassing public act, even for an eel.
Libations nod Asian, with the "Plum Sparkler" mixing sparkling wine, ginger, and plum wine essence, and a Sake Lemonade with vodka and yuzu, an Asian citrus intro'd to Japan in the Tang Dynasty -- and now passed to a generation finally growing out of the vodka & Tang dynasty that so pissed off their mothers.