The Weekend Playbook: #BDOYL, free pizza, and NKOTB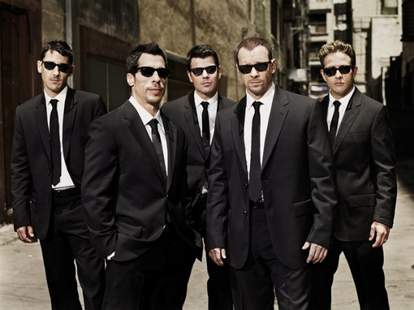 Even If You're Hungover After Game 7, You Must Do This Friday is the Best Day of Your Life! Get out and crawl with us, and enter the Thrillist #BDOYL volleyball tournament on the courts at 73rd Street at 11a. Winner gets a free night at The Clevelander. Second prize is a bar tab, and everyone goes for drinks after. Thursday, June 20thMansini's Pizza House is giving a free slice of cheese pizza to Thrillist readers between 6-8p. Get your slice, then head to the beer garden out back and challenge your local Thrillist editor to a game of dominoes. Here's what you can order if you want more
Walshy Fire of Major Lazer is at Rec Room at 11p. If you don't know them, you are uninformed. But also, check out some of their tracks here.
Saturday, June 22nd Wanna be on Hell's Kitchen? Or at least meet some really good chefs who think they should be? Check out the open casting call at the Eden Roc at 2p.
Elvis Fest 6 goes down Saturday at 11a at Seminole Casino Immokalee where America's top "Elvis Tribute Artists" will compete for the title of King, and there'll be a special appearance by Elvis' somehow-alive drummer DJ Fontana. There's no shortage of gambling either
Wanna see women in their 30s act like teenagers? New Kids on the Block, Boyz II Men, and 98 Degrees will hit the stage at the BB&T Center at 730p. Good seats still available!
Tuesday, June 25th Dischcrawl does Midtown this month at 645p. And because you read Thrillist, you get to learn one of the stops before anyone else. Drumroll…… Machiya! We know you want tickets now, so go get them here.
Did we miss anything? Aside from all this, what're YOU getting up to this weekend? Tell us in the comments below -- especially if it's hanging out with Ed Begley, Jr.!