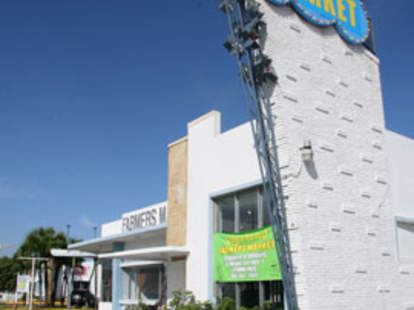 There's technically nothing wrong with walking around an outdoor market buying things -- or there wouldn't be, provided those things weren't inevitably herbs, vegetables, and flowers. For outdoor shopping with testicles, try Vagabond Market.
Vagabond's a weekends-only strolling-about extravaganza, set in the parking lot, lobby, and former swank lounge of the MiMo-tastic Vagabond Motel -- built in '53 by the Delano designer, and rumored to be a haunt where Sinatra often did it, his way. Stands sling edibles like Gaucho Ranch grass-fed beef from the Pampas region of Uruguay, vacuum-packed and wet-aged in its own juices (or grilled on-the-spot by the Red Light chef); fresh stone crabs; handmade ice cream; and Terry's Key Lime Pie (the pride of Davie, FL, it'll quickly rob you of yours). Not-for-your-mouth offerings include: Robert Sullivan's reckless photography (i.e., shots taken nine inches from a gator's maw), mid-century modern furniture, vintage publications ('65 Playboy, '79 Mork Book Of Orkian Fun), and Transit menswear, hawking everything from their own Italian collection, to Arnold Zimberg and Hartford button-downs, to tees from Elvis Jesus -- a brand nicknamed The King and King of Kings.
Future plans include a cooking school in the former motel rooms, and outdoor yoga and pilates by the pool, which sounds horrible, except there'll also be a tiki bar with a view -- and of course there's nothing technically wrong with pilates, as long as someone else is doing it, and you're drinking something with an umbrella.