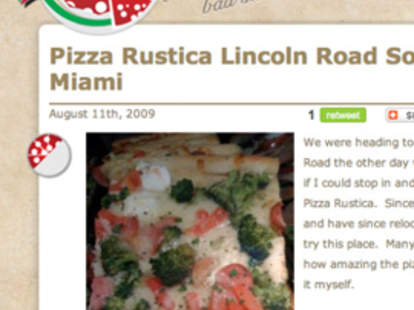 Childhood memories can stick with you to fuel an obsession: some people's love of baseball is held over from Topps cards and Little League, which is also your excuse for basing your entire life around getting to second base. Let one man's childhood pizza obsession feed you, at WorstPizza.com.
From a guy who grew up touring Long Island's mother lode of pizza joints with his grandpa, and later became haunted by the question, "why do some pizza places suck?", deceptively-named WP sojourns South Florida to tirelessly critiques slice spots great and small, so you don't have to, breaking down each pie's experience with a tongue for detail and an eight-wedge rating format that's astoundingly similar to how Kirstie Alley home-scores the Olympics (they all win!). In an enthused-everyman voice, the founder and his review partners break down the disparate elements that make or break every pie, like ingredient ratio ("The cheese and ingredients were a perfect harmony of salty and savory"), crust strategy ("The slice...was uber crisp. It held the heavy toppings quite well...I heard the crunch of the crust in my ears and it sounded really nice"), and quality control ("I have a feeling this slice was out a bit longer then it should have been" -- of course, you won't mind if you and the slice have that in common). There're some choice local reviews, such as Jonathan Eismann's Pizza Volante in the Design District (6 out of 8 wedges), of which WP raves, "I was able to taste every ingredient...the crisp tasty and perfectly baked crust, the sweet fresh sauce and the incredibly fresh cheese.", and there's even a bit of debate: while at Piola (6 wedges), WP gets in a little spat with a fellow contributor about the merits of thin crust: "Piola is definitely a place I will go back to again, without Matt. This way I can eat it without having to watch him shake his head in disapproval. Luckily we will not discuss Matt any further." Sadly, the final wedge is now between them.
WP also has a small cadre of reviewers who canvas other cities, like Augie, who studied pie-making in Naples, and who now reviews in NYC; they also organize Pizza Tweetups, letting people follow the pie piper to different shops and relish in the joy of a pizza party -- another childhood memory worth seeking out, even if it generally meant striking out at the plate.