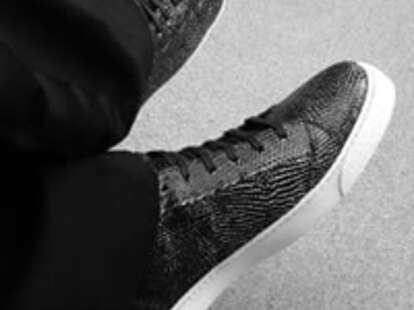 It's entirely possible that Confucius believed man was comprised of 6 distinct facets -- but what's certain is that the philosopher devoted precious little time to designing shoes to suit each. For a company that picks up his slack, check out The Generic Man.Based in Los Feliz, GM's a new footwear line optimized to fit your every mood, from highfalutin' man-about-town to low-falutin' man-about-hammock. To prepare for this epic undertaking the founders traveled extensively throughout Europe, commissioning leather-, suede-, and sole-smiths for unique materials (e.g. "Caviar", a textured leather evocative of stingray skin that, despite its sharp look, tastes decidedly gamey on toast points). The lineup:
Golfer (Leisurely):

Cap-toed and casual, conveying a laid-back bonhomie only possible in a man who forces an indentured servant to carry around a bag of sticks.

Motoman (Dangerous):

Elegant ankle boots that embody refined badassery, even as they whisper that the closest you've gotten to a hog is the Carl Buddig display at Ralphs.

Sportsman (Sporting):

A gentleman's take on throwback, lace-up hi-tops, from a time when ballers were men and hair was afros.

Boatman (Boat-y):

Simple Tuscan-suede slip-ons serve as unspoken corroboration for tales of your fictional yacht.

Driver (Exuberance):

The thin soles on these multi-use sneakers are all about giving you the freedom you need to...mash desperately on the brakes when you hit bumper-to-bumper traffic.

Naval (Decorous):

Impressive, narrow-tipped oxford/loafer hybrids comfortably wearable even without their laces -- convenient if you break them garroting your project manager before going AWOL from Casino Night.
It's entirely possible that your six facets don't perfectly match the above, but you're dreaming if you think a decorous restaurant's going to serve you while you're wearing shoes that scream Horny.