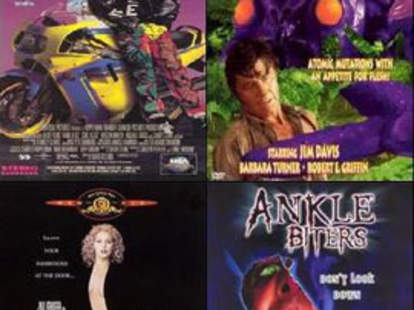 The natural reaction to bad movies is to spew forth annoying, inebriated opinions until everyone despises you, but this world already has a Larry Merchant. Let somebody else do the skewering at Cineprov!
Currently revving back up (after a brief hiatus) at the church-turned-alt performance space Relapse Theater, Cineprov! is a live, MST3K-inspired stage show where two guides dump haterade on Hollywood's least-loved films from an onstage couch. The two-hour show begins with a parodied version of how the film may have been initially pitched to Hollywood producers, then dives into insult-filled screenings varying from Elvis classics and Vanilla Ice's Cool As Ice to the sci-flop Carnosaur and The Boy in the Plastic Bubble, starring John Travolta, whose portrayal as the immune-deficient and encapsulated Tod Lubitch can only be described as infectious. Besides television shows-turned-cinematic disasters, the gang also takes on special projects, like the original 90210 TV pilot and the final four episodes of Sex and the City shortly before its theatrical release; meanwhile, "Ruining Childhood Memories" takes on kid faves like A Charlie Brown Christmas, because how could you not rip apart a bald, adolescent boy that never changes shirts?
As for the refreshments, the Relapse is 100% BYOB -- because ultimately, the only thing funnier than making fun of a bad movie is offering your own drunken critique of the guy making fun of the movie.