Small-plate Asian fare in Midtown Village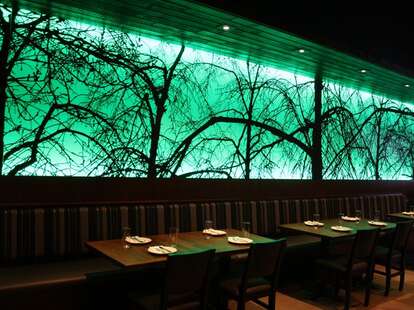 They say you should strike while the iron is hot, but if you're not working due to protest anyway, what's the point of even turning that thing on? For eats from someone who understands metaphors a little better, hit Sampan, opening tomorrow.
Hot on the heels of the near-instant success of AC's Izakaya, rising star chef/owner Michael Schulson's newest endeavor's serving small-plate pan-Asian fare in a 95-seater complete with a black walnut bar and an exhibition kitchen-viewing counter bisecting the dimly lit dining room where banquettes bathe in the glow of Sampan's design showpiece: translucent wall panels with images of leafless trees backlit by six color options, which'll change every few weeks, just like the attendees at String Cheese's '03 tour, which was completely sick, by the way. Starters include "Hot" dishes like Thai chicken wings and Berkshire pork belly banh mi, while shaken tuna tartare and Maine lobster rolls're featured as "Cold" fare, and "Satay" options include braised beef short rib and kobe beef, which seems to think it can carry the whole menu by itself. Larger plates run from sea-dwelling eats like the Hong Kong noodle-based crispy chili crab, tamarind-tinged laksa shrimp, and seared snapper w/ black beans, green mango & lemon confit, to meatier eats like short rib w/ bok choy & lo-mein and tamarind pancake-sided Pekin Duck, proving creative menu misspellings are what's hawt right now.
On the boozy tip, Sampan's Asian-themed selection includes sake, canned brews (Lao Dark, Thailand's Chang Lager, Tiger Lager from Singapore...), and specialty cocktails like rum-spiked Thai Iced Tea and the Passion Chili Soda, and a laundry list of others they're continuing to iron out.