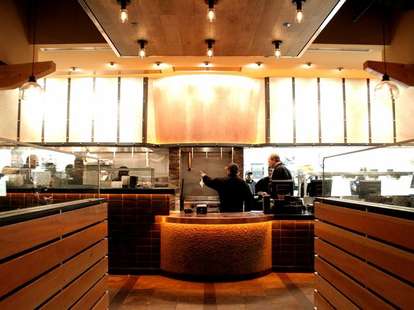 When striking out into unknown territory, it's wise to bring someone along who knows the lay of the land, and even wiser to kill them once you're comfortable on your own, cause sharing hidden treasure is for suckers. Leveraging a veteran restaurateur's knowledge and generously letting him live, the dude behind Tri Tip Grill, opening Monday.
Setting up in a rustic nook with exposed wooden beams, a stone tile counter, and an open kitchen complete with a real wood smoker, Tip's a casual meat palace from a first-time resto owner who enlisted the help of a multi-location-owning Cali chef known for creating tri tip beef that's smoked & then charred, creating flavor crystals they claim're "pink and dirty", which is a bit of a shocker. Said tip can be had sliced over a bed of roadhouse onions and smothered in jus, or piled between daily-made rolls in sammies ("bucks") like the Philly (sauteed o's/peppers/pepper jack), the chipotle-sauced Border, the Bacon Cheddar (take a guess), and the Red Ranch sauce/fried onions/bleu Roadhouse, which'll rip out your throat if you tell it you used to eat sandwiches like him in prison. Not-just-the-tip items include sandos rocking marinated & grilled chicken, tarragon-aioli-abetted salmon filets, and Romesco-sauced portobellos; burgers like the avocado/swiss/bacon/special sauced The Rock; and an array of salads, including a your-choice-of-protein joint called the Caesar Pleaser, aka, Brute et Horn-ay.
They'll even bag up an entire char-roasted tri-tip that'll last for days in your fridge, or just feed 5 to 6 roommates immediately, since eating hidden leftovers is uncharted territory for no one.