Nipping stoned negligence in the bud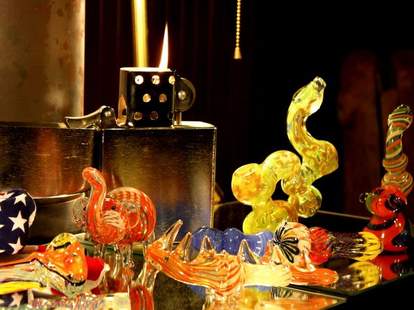 Though beautiful, glass pipes present a bit of a Catch 22: if they're effective, you're inherently ill-suited to be handling one. Capitalizing on this fact, Pipes 2 The People.
Launching today (naturally) from a couple of enterprising roommates in the Mission, P2P's a subscription service that sends you a high-end piece of randomly chosen glassware once a month for a recurring fee of $12.99, which adds up to well below the wholesale value of what you end up getting/breaking, allowing you to save up for more 2nd Degree Burn Doritos. You're guaranteed to get gems from each of P2P's several "classes of glass", which range from compact travel pieces (chillums, one-hitters, spoons...), to table pieces worth $75+ (inside-out n' brilliantly colored double bubblers, Sherlock bubblers, etc.), to novelty pieces like a bulbous elephant whose trunk you lip while plugging its butt as a carb, and others that thankfully don't involve that. While included with your pipe'll be bonus items like Formula 420 Cleaner, papers, lighters, and "once it's legal, fully packed bowls" (ha!), P2P's site'll rock fun features like a "stoner photo of the month" contest, with the winner receiving a gratis "water filtration unit", also the name of another spinoff Law & Order, where Detective Stabler just sort of figures out why someone's Irish Spring doesn't take a lather.
Additionally, after being a member for six months, you're entitled to a custom piece that'll be built to your specifications by a local blower. If you can pull it, ditch work early today and hit the Noc Noc on Haight at 4:20 for a launch party, where there'll be pipe giveaways and cheap drinks, which're inherently ill-suited for people pretending to be ill, in suits.