Because, um, yessomuch, The Corner Door's now making every single Monday a "Grilled Cheese Day", wherein their chef'll make a new, totally creative version of cheese & bread & stuff. And not only did we get him to preview what he's gonna be grilling up (dude, fried chicken is involved), but we also got him to give away free Monday grilled cheeses FOR AN ENTIRE MONTH to one Thrillist reader who tweets this. Now about that preview...

Recommended Video
Buffalo Chicken Beer Cheese Fondue Fries Are Like an Edible Sports Bar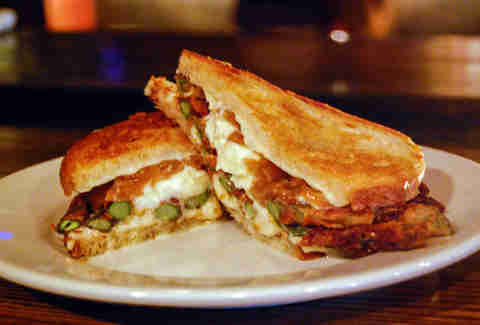 When we said bread & cheese & stuff, this is what we meant by stuff: burrata, deep-fried asparagus (!), and arugula.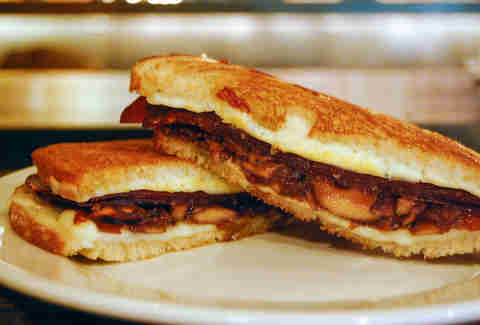 This fungus-laden sammo'll also make an appearance; it's got chanterelle mushrooms, sauteed onions, Pecorino cheese, and bresaola (aka cured, air-dried beef).
Is that fried chicken on your grilled cheese? Yes. Yes it is.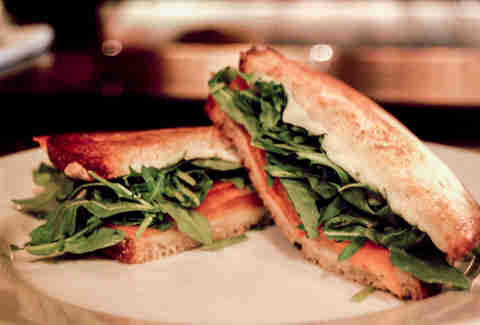 And finally: this cocoa buttered (?!?) handheld, which'll both delight and twist your tongue (Pecorino and poached persimmons!).
Previous Venue
Next Venue
Venue Description
1. The Corner Door
12477 W Washington Blvd, Los Angeles, CA 90066
Get ready for an eclectic range of ace cocktails -- shaken, stirred, and on-tap -- at this Culver City favorite. The lineup ranges from the smoky Taco Truck with mezcal, pineapple, and cinnamon-infused Campari to the Jesse Pink Gin with gin, bitters, coconut liqueur, and orgeat. Don't miss out on their seasonal hits either, like the Goonies menu with the whisky-hazelnut-cacao combo of the Truffle Shuffle and the rye-espresso-coconut of the Mama Fratelli. With a knockout food menu from Birch's Brendan Collins, you'll want to stay put for a few rounds.