Funding limited only by your imagination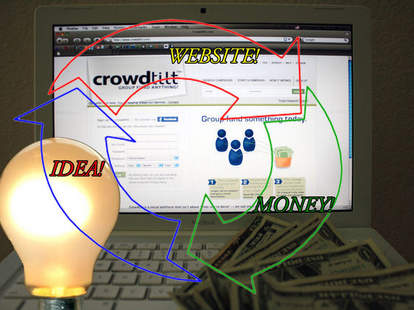 Having a brilliant idea's one thing, but funding it's a completely different animal, especially if your idea is to combine people with different animals. Funding your only slightly less crazy (or regular) ideas, Crowdtilt.
Just launched by a microfinance fanatic, Crowdtilt's a supremely simple tool that allows users to "group fund anything", eliminating requirements from similar sites that your project be "culturally enriching", since casinos are already doing a bang-up job on that front. The process:
Post a description of the scheme you're looking to fund, and feel free to use visual aids, though given his general ignorance you can expect Puck to be a total d-bag about it.
Set a "tilt" amount that needs to be reached for the project to officially go forward, and a "goal" amount that will cut off the fundraising/your opportunities to misappropriate excess funds.
Use the integrated Facebook/Twitter tool to solicit money from all the "friends" you've entertained with hilarious Death Metal Rooster memes.
Monitor how much you've raked in via "Campaign Details" and see who's jumped on board in "Campaign Community", though it's just a lucky coincidence that you're raising money to try and put Joel McHale out of work.
From there you can sit back and watch as the cash rolls in, though if the project fails to hit the "tilt" threshold donors won't have to part with any of their money, which sadly can't be said of anyone who went to the theater to see The Island of Dr. Moreau.