This magazine is, ahem, brilliant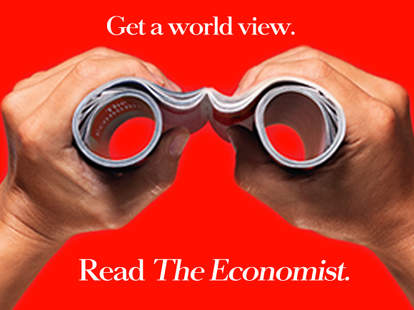 There are 1.3 billion reasons to sign up for The Economist, starting with getting your first 12 weeks for $15, a savings of 84%. Because you're the sort of busy individual who needs easy access to a world of insight & analysis, we've assembled a brisk list of six:
On The Financial Crisis' 5th b'day, you need to know how it got so big nobody asks "which financial crisis?"
First 12 weeks for $15
When chatting up an attractive Aussie, you could bore her with small talk, or dazzle her with insight into the challenges facing her new conservative government
First 12 weeks for $15
Nobody provides a more balanced assessment of the pros and cons of interventionism
And finally, first 12 weeks for $15


Talk about an infallible argument. Now just choose the subscription that's right for you -- print, digital, or print + digital -- and let your total mastery of global events begin.