True story: freelance office space XL Lounge -- nicely located at Knox/Central -- was dreamed up by the Hollywood producer behind 2007's The Hunting Party while sitting in a too-noisy Croatian coffee shop arguing with a director who wanted to spend $10k importing a monkey to act alongside Richard Gere. Again, true story.
The place is designed with multiple levels to be "like your mind", and promote a sense of community while still allowing the necessary solitude to be productive. Suck on that, Dilbert.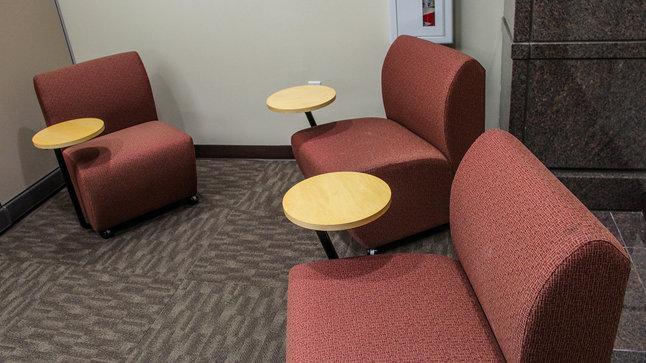 The most basic membership gets you a) in the door, and b) into one of these really cozy desks that'll instantly prove your teachers' contention that being too comfortable makes you fall asleep.
It also gets you into these mini cubicles, specifically designed so that the desks aren't touching to reduce noise, and inset to afford privacy while you're playing Plants vs. Zombies.
Step it up a notch and gain all-inclusive copier access, the right to bring in guests for meetings, and these snazzier desks, whose bright colors are supposed to promote aler... huh? Alertness.
Semi-private offices for those who want to freelance like a boss.
Phone-less phone booths for private calling. Inside, you'll really, actually find a Superman cape, and if you wear it you'll really, actually get free coffee from their attached shop, MiNi Cafe.
Then again, what's the point of renting office space if you're actually going to get work done?