This land is potentially your land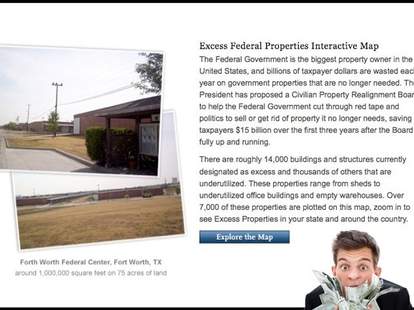 Common wisdom dictates the best deals come from motivated sellers, but sellers who are too fat and lazy to care are pretty easy to take advantage of too, and nobody's fatter and lazier than the Federal Government. To that end, the just-launched Excess Federal Properties Map's a rundown of 24 million square feet of gov-owned property (housing units, offices, research stations...sheds) up for grabs across this apparently not-quite-as-great-as-it-use-to-be land. Some highlights:
Aspen, CO: Numerous multi-thousand sq ft spaces, plus an 800 sqft former barrack, good for gnar shredders who bust ollie Norths.
New York, NY: A 96sqft "warehouse" for those who want to live the dream of owning a walk-in closet on Staten Island.
Dallas, TX: Over 1 million square feet of warehouse in Fort Worth...on second thought, the Staten Island option wasn't that bad.
Wellfleet, MA: 248sqft of family housing...apparently the government really does look at its citizens as ants.
The Map's very bare bones, and to learn more about a given location/buy anything, you'll need to submit an official inquiry via the White House website, but don't worry, if there's one thing fat lazy people are really good at, it's the internet!