Money
Sponsored by
The Best Ways to Spend Your Time Instead of Filing Your Taxes
Sponsored by
The new year is coming, and with it, that W-2 form you dread having to figure out. And sure, you could file your own taxes this year. You could spend painstaking hours deciphering paperwork, Googling, "What can I write off on my tax return?" and sifting through receipts to find potential charitable deductions.
But friends, why? Why, when you can have a tax professional do it for you while you're busy doing… whatever you want? Just upload your tax docs to H&R Block's Tax Pro Go, and you'll get matched with a tax pro that specializes in your unique tax situation. Each H&R Block-certified tax pro is trained to find every deduction and tax credit you deserve, so you'll know you're getting the best possible refund. Once they've completed your return, they'll even send it back for approval before filing it for you. It's convenient, gives you peace of mind, and, best of all, the time you've saved is yours again.
With your taxes taken care of, it's time for the real reward: planning something fulfilling to do with your newly won free time -- and we have a slew of ideas right here.
FOR THE FITNESS FANATIC
If you prefer to get your heart pumping in the comfort of your own home, these killer HIIT workouts will help you torch calories, build strength, and generally psych you up to wear fewer clothes come summer -- and all in under 20 minutes.
For a physical challenge that also tests your mental strength, check out a nearby climbing or bouldering gym. Most gyms offer intro classes to get you comfortable on a wall and in a harness -- and we promise, nothing feels more satisfying than figuring out the perfect route to conquer a rock wall. 
And for anyone looking to get a little more toned, a little more flexible, and feel a little less like a bone-creaking Boomer -- oh, is that all of us? -- give a barre3 class a try. With more than 140 locations nationwide plus online streaming workouts, barre3's full-body strength, cardio, and mindfulness routines are accessible and a real challenge for ballplayers and ballerinas alike.
Shutterstock
FOR THE FOODIE
You've vowed for years to perfect your skills in the kitchen. Take that desire to the pros at Sur La Table at an interactive, in-store cooking class. Their nationwide options -- from Rustic European Breads to The Fundamentals of Chicken to Chocolate 101 -- cover every kind of culinary feat.
If you'd like to impress a crush or significant other with your perfect bartending skills, show off at a couples' cocktail-making class where you'll shake, stir, and imbibe with a pro mixologist.
And if indulging your inner foodie feels best when queuing up a new chef-based TV series, hit play on The Chef Show. In it, writer, director, and food-lover Jon Favreau pairs up with chef Roy Choi to mine their celebrity and chef friends for culinary secrets. Each episode is more mouth-watering than the last.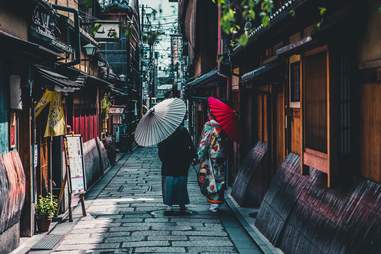 Unsplash
FOR THE WORLD TRAVELER
You've booked your dream trip. Now, imagine landing in Greece, Japan, Peru, or France and chatting up the locals as you explore. It's a cinch to make happen with the Duolingo app. Choose from any of its 20-plus languages (including High Valyrian for Game of Thrones addicts) and get a free program that teaches you the language basics -- and with the time you've saved by using Tax Pro Go, you can knock out a couple of Duolingo's easy, 10-minute lessons. The coolest part: The service uses a game-like approach, which means you'll be just as addicted to it as Candy Crush or Dots -- but now with something to show for it.
If you already have the language part down, get some sage advice for the road from intrepid traveler Lexie Alford. The 21-year-old shares what she's learned from being the youngest person in the world to travel to every country in this quick, fascinating TED talk.
And if you just need some inspiration for planning your Big Annual Trip, take some time to soak up this sweet list of the best places to travel right now (the Azores! Seoul! Uzbekistan!).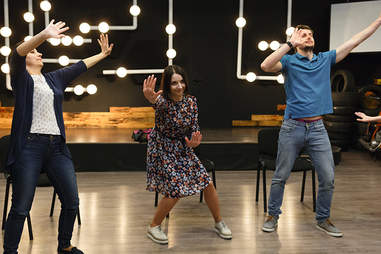 Shutterstock
FOR THE CULTURE VULTURE
Sure, watching comedy is fun, but what's even better is doing it yourself. That'll be you when you try one of these intro to improv sessions, which one class-goer described as "like therapy, recess, and yoga all rolled into one."
You could also hold court at your next dinner party or drinks meet-up by learning to talk the talk when it comes to poetry, literature, and art with one of these free online culture classes from top universities like Brown, Berkeley, and Harvard. You can polish off the first lecture in an afternoon.
Or maybe it's time you finally bring your brilliant ideas for a screenplay to life by signing up for an online filmmaking program. The courses are free; the finished product: priceless.
Unsplash
FOR THE MUSIC FAN
You've been fantasizing about nailing the "Stairway to Heaven" guitar solo for long enough. Take action with a beginner guitar class that's fast, easy, and fun -- and guarantees you'll start playing music on day one. (Oh, you're more of a Lizzo lover? Try a flute lesson!)
There will be no end to the cool parties you'll get invited to (or side hustles you'll pick up) after you've learned to mix your own set with one of these online DJ courses. The classes include interactive, real-time mentoring from experts to ensure you dial in the sick beats.
Or, if you're ready to bump your karaoke game to the next level, take the first step toward stardom with voice lessons. This 30-day program promises to help you become the best singer -- or at least a better singer than you were last time you grabbed the mic. 
Unsplash
FOR THE BUDDING ARTIST
There's a spot on your wall that's just begging for an inspired work of art. Why not make it yourself? Check out one of these step-by-step painting classes taught by local artists (and fueled by adult beverages).
Speaking of beverages, channel that crafty energy into a mug sculpted and forged by your own hands. These pottery courses teach you to use a wheel to create ceramic plates, cups, figurines, and more.
Finally, because we all know there is no art form more expressive and beautiful than dance, treat yourself to an intro session to learn -- like, really learn -- a classic such as the cha-cha, samba, rumba, or jive. The dance classes at this school with studios in Texas, New York, and other states are designed to be fun and approachable -- no partner required.
With all of these options to choose from, you're well on your way to learning something new. And with the hours you'll save by using Tax Pro Go's expert tax prep to handle your taxes without ever visiting an office, finding the time to start is easy.