These Podcasts Will Get You Ahead at Work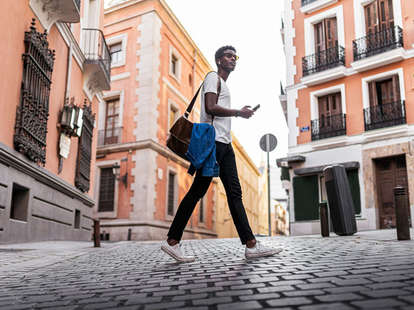 Everyone loves a good podcast. Spending 20 minutes to an hour or more listening to your favorite hosts discuss intriguing topics can make any car ride or a long day at work a lot more enjoyable. But beyond entertainment, podcasts can also be a valuable resource for giving your career a boost. Consider it a DIY crash course in business -- without all the time or the resources it takes to go back to school for your MBA. Instead, find a professional podcast that suits your job and listening needs, then sit back and soak up all of that sweet, sweet advice. We've found several that'll give you a good self-esteem boost -- and your career a jumpstart -- in the time it takes you to commute to the office.
The School of Greatness
Host: Lewis Howes
New Episodes: Tuesdays, Thursdays & Sundays
Navigating the confusing waters of entrepreneurship, career, business, life, and everything else in between isn't always easy. That's where The School of Greatness comes in. This podcast regularly ranks among iTunes' top 50 podcasts and is downloaded over 4 million times per month -- and for good reason. Since its beginnings in 2013, the show has discussed inspiration and resilience in all professions, and features stories from athletes, actors, entrepreneurs, and more. Guests have included Ariana Huffington, Penn Jillette, and Maisie Williams, and the interviews tackle lessons on self worth, keeping your standards high, and breaking cycles of fear and doubt. If you've ever suffered from imposter syndrome at work, this is the podcast for you.
The James Altucher Show
Host: James Altucher
New Episodes: Mondays & Wednesdays
Altucher is an angel investor and bestselling author who zooms in on unlocking your potential and making a profit to boot (which means you should probably listen to what he has to say). With more than 12 million downloads since its launch in 2014, the podcast mixes Altucher's humor and wit with his no-nonsense hardline questions in interviews with thought and business leaders. And the best part is, Altucher doesn't only interview billionaires and executives -- he also speaks with drug dealers (seriously), artists, authors, musicians, and everyone in between who has a unique story to tell. His goal is to underscore that everyone forges their own path to a better life, that success means something different to each person, and that everyone goes at their own pace -- which might be exactly what you need to hear when your coworker just beat you out for that promotion.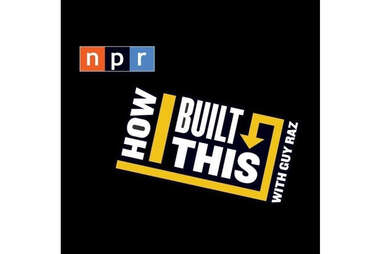 How I Built This
Host: Guy Raz
New Episodes: Sundays
It's said that one of the keys to success is learning from your mistakes. But the key that unlocks even more doors is learning from other people's mistakes. And knowing that billionaires and business moguls also endured failures and screw-ups like the rest of us puts things like fumbling through a client meeting or getting laid off into perspective. Episodes of How I Built This profile a particular business and the relatable mastermind behind it. Guests like James Dyson (Dyson), Angie & Dan Bastian (BOOMCHICKAPOP), and Jeremy Stoppelman (Yelp) talk about their initial struggles to get their ideas off the ground, their failed methods of getting prototypes noticed by the big guys, and how they finally broke through to success. Plus, the postscript, How You Built This, introduces an up-and-coming entrepreneur and shows where they currently are on their journey.
The Future of Work
Host: Jacob Morgan
New Episodes: Twice a week
For the budding entrepreneurs out there, this podcast delves into smart business strategies and how to effectively "future-proof" your brand(s) so that they can stand the test of time -- not to mention uncertain markets. Host Jacob Morgan sits down with the business world's top brass to talk about specific aspects of the workplace, whether that's learning how to encourage innovation from a NASA exec or hearing from the president of organic food company Amy's Kitchen about how to figure out the right company to work for. The podcast also addresses thought-provoking topics like the workforce skills gap and the trajectory of employer-employee relationships, giving a clearer overall picture of what exactly the 9-5 is going to look like in the future.
Tara Brach
Host: Tara Brach
New Episodes: Wednesdays & Thursdays
Sometimes, the typical work week is harder to deal with than usual. When rushing on bottle-necking deadlines and attending endless meetings seem particularly irritating, maintaining your cool and getting through the day not just in one piece, but at peace (see what we did there?), can be especially challenging. That's when meditation and mindful thinking come to the rescue. In her eponymous podcast, host Tara Brach introduces stress management tips for the daily grind through her Western Buddhist teachings, which can help address both the bigger picture and the everyday tensions of the typical work environment -- and how to best deal with those triggers. Topics range from breathing exercises to learning effective forgiveness; with Brach's tools, you'll be able to begin and end your work day at the top of your zen game -- even when you spill your coffee on your pants at 10am.
Marketplace
Host: Kai Ryssdal
New Episodes: Every weekday
Marketplace is another must-listen from NPR for anyone who doesn't quite grasp the ins and outs of the daily economy. Far from the dry and boring mandatory iteration from high school, the topics covered in this podcast are easily digestible and make things a lot clearer to the average listener (read: non-economist). Discussions center on topics like tariffs, interest rates, and the federal budget, then illustrate just how these bigger issues trickle down into our everyday lives. Host Kai Ryssdal makes the concepts understandable through real-world business examples, so that we can better deal with whatever curveballs are thrown in our career paths (like how to effectively decide between a relocation or a layoff, as was recently the case for many GM workers). With regular listening, you'll be well on your way to becoming an economics expert.