Your Old New York Lottery Ticket Could Be Worth $500 A Week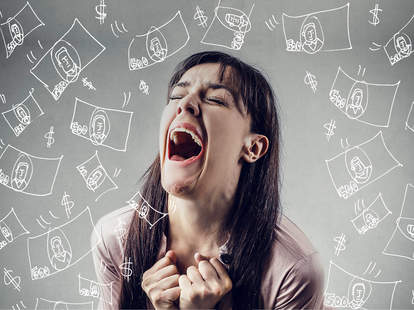 Don't rip up that fruitless holiday scratch ticket just yet. New York Lottery has rolled out their MAKE LIFE WONDERFUL Second Chance Sweepstakes this season, giving players with non-winning holiday scratch-offs the chance to walk away with $500 a week for life. FOR. LIFE.
Every dollar spent on an entered holiday scratch-off ticket counts as one entry. So the $20 holiday scratch-off ticket equals 20 separate entries into the sweepstakes, and you're allowed to enter up to 100 tickets per 24-hour period.
There's one more drawing on January 12th, with a first prize of a $5,000 shopping spree, 100 second prizes of $200 in cash, and 100 third prizes of five $20 playbook scratch-off tickets. All entrants are eligible for the February 2 drawing for a chance to win the grand prize of $500 a week for life.
So take that non-winning holiday scratch-off and register online at nylotterysweeps.com with the ticket for your chance to win a second income. And you were going to throw that thing in the garbage?