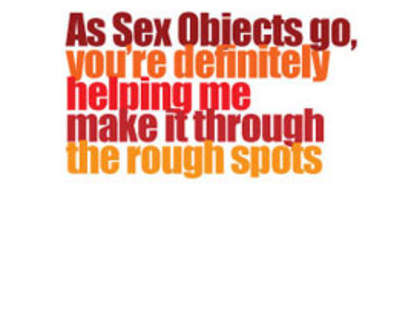 Thursday's the Jewish day of atonement, when half of LA will resolve to do things better next year by strengthening current relationships and healing damaged ones -- in the process alienating many with sappy greeting cards. Skip the sentiment, with cards from Cerebral Itch.A cleverly inappropriate locally based e-card purveyor, Cerebral's attitude's best summed up by their motto, "Yes, people still send cards -- I know, shocking". Among those most likely to pleasingly distress, presented outside/inside:
Romance: "You and me need to take a stab at making some p**n/You have to admit, it's better than: 'I don't know, what do you want to do'."
Birthday: "Please let me know if the $100 cash inside this card made it through the mail okay/If not, I'll just take it from the money you still owe me anyway, Happy Birthday."
Break-up/Divorce: "Peeing is nature's way of cleaning out the body's toxins/So I guess I'm sort of peeing you, adios peepee."
Cerebral also offers most cards on old-fashioned paper -- so when you send someone "Low light and makeup were your options a year ago...now, I don't know what to tell you", their dismay will be offset by their appreciation that this year, you licked a stamp for them.