Montreal's favorite electro duo makes your desert picks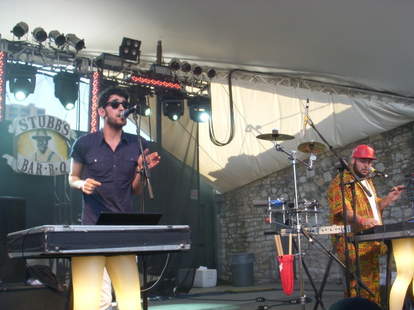 Since you were too lazy to remember this weekend kicks off National Income Tax Week! Coachella, we enlisted fest vets (and this year's sub-headliners) Chromeo to give us their 10 most listens:
Tyler The Creator, "Yonkers": A dark intense song from the leader of heavily hyped local hip-hop crew OFWGKTA, whose name presumably stands for...hmmm. You're sure that's not just misspelled?
Rye Rye feat. M.I.A., "Sunshine": This high-voiced female rapper from Baltimore drops a shiny summer cruiser off her soon-to-drop album Go! Pop! Bang!, which is NOT cool to say around your dad, no matter how close you are.
Riva Starr feat. Trim, "Dance Me": The European beat-heavy DJ describes his style as "Snatch!" which either means it steals from a ton of other styles, or that dude who threatens to feed Jason Statham to pigs. LOVE that dude.
Monarchy, "Love Get Out Of My Way": This dance/pop duo's making their US debut in the desert, helped along by their popular YouTube music video for this track in which four people identically dressed in leather and trashcan-esque masks showcase their mime skills, but not their mom skills, because the track's not called "Love Get Out of The Basement and Help Your Father With the Mulch".
Green Velvet feat. Kid Sister, "Everybody Wants": Squiggly bloops and bleats break through this collab between a Chicago house DJ and that chick who used to be romantically linked to My Buddy.
Ariel Pink's Haunted Graffiti, "Round and Round": This chilled-out number from a Beverly Hills native's got a neo-Yacht-Rock vibe, a la Matrix IV: You Make My Dreams... Extremely Realistic
A Trak f. CyHi Da Prynce, "Ray Ban Vision": Get pumped for this Power 106-ready bouncer that's an ode to sunglasses and features lines like "I treat chicks like Ray Charles"... so enjoy those Pepsi sponsorships, A Trak's ladies!!
Hurts, "Better Than Love": Electro-pop that's unabashedly '80s, so to listen to it appropriately, it helps to be in a Depeche Mode.
DJ Zinc f. Ms Dynamite, "Wile Out": This drum 'n bass DJ's became well-known for inventing a hard-hitting style of music known as "Crack House", also what Omar Epps yells at Hugh Laurie in at least 20 different episodes.