Nine tracks, two dudes, a ton of Killa Bees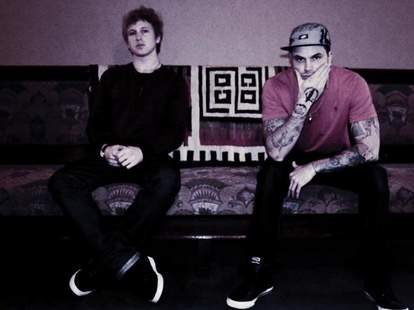 Ahead of their show Sunday at The Croc with the passionately named CunninLynguists, and because BSBD got its start doing collabs with Wu-Tang affiliates, we asked the semi-Seattle-based production duo to lace you with some underappreciated tracks from the Killa Bees that're old, dirty, and mostly bastardized by lack of play. You should immediately spin:
GZA, "Breaker, Breaker"This syncopated track from the Wu-Tang founder's third solo album benefits from smoothly understated lyrics by the "Genius" and some jaunty production from Arabian Knight, though it really could've been done by 1001 other guys. Killah Priest, "One Step"Boasting a beat that's been recycled by The Alchemist, and laced with religious themes, "One Step" was one of the first singles from the rapper also known as Iron Sheik from the Middle East, despite his not having a tendency to Babel. RZA, "Holocaust (Silkworm)"This track features the most famous verse from the Wu producer, who's also known for masquerading as Bobby Digital, and acting in American Gangster, and Funny People, which's also known for masquerading as a funny movie. Wu-Tang Clan, "I Can't Go To Sleep"Essentially Wu rapping over an Isaac Hayes song, "Sleep" is notable for Ghostface Killah's almost tearful verse and a video featuring the Clan in pajamas...(sigh), of course, yet another rap video all about booties
The Gravediggaz, "Bang Your Head"Unfortunately not a track from that car-crushing monster truck, this darkly humorous reverb-heavy bumper is off the first album from a group that pioneered the hip hop subgenre known as horrorcore. GZA, "Hip Hop Fury"Another one produced by Arabian Knight features verses by GZA and Hell Razah, and is highlighted by a chorus in which RZA threatens to shatter your "snot box", something that'd require quite a blow. Hell Razah, "Halos"Though BSBD may be biased 'cause they produced it, the track is still hot thanks to its soaring ethereal beat embedded with mellow verses from Crooked I. RZA, "Tragedy"From the Rhyme & Reason soundtrack, this underproduced number boasts an R&B chorus that interpolates the lyrics from Eurythmics' "Here Comes The Rain Again", also the only thing KOMO-TV's Steve Pool ever has to say. Cappadonna, "Slang Editorial"Blessed with "swag" before swag existed, this boast-heavy rapper made his debut on the seminal album from Raekwon the Chef, Only Built 4 Cuban Linx, who presumably only plays golf in Havana.