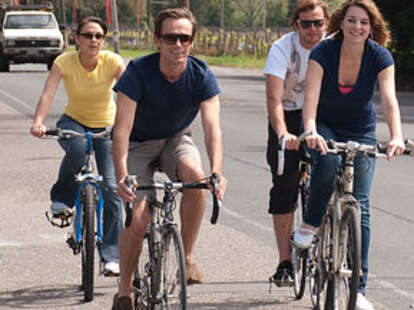 To make one's true passion his work is every man's dream -- but if he's got two passions, he usually must choose, or be forever known as that mime real estate broker. For a successful synthesis of work and one woman's twin passions, check Gears & Grapes.
Exercise meets crunking with G&G, a bike tour outfit that'll schlep you and your buddies from the city to Napa/Sonoma for a totally unique wine country experience -- stripped of the dangerous prospect of driving -- brought to you by a local sommelier-cum-cyclist who thinks she's got the best job on earth, but clearly hasn't seen Ghostbusters. Day trips pick up in SF bright and early and bring you to winery #1, where you'll rock a tasting before selecting your top o' the line road bike or hybrid, with which you'll follow a guide to three more boutique/big name wineries (gently spaced out at three to five-mile intervals) for more tastings, with a catered picnic lunch along the way, all while a van slowly brings up the rear carrying all your crap/you, gently laid out after three to five mile intervals. Upping the ante, G&G's three-day weekend excursions pack all the aforementioned day trip punch in the afternoon, plus more strenuous/optional non-boozy morning rides, meals at Michelin-starred restaurants, and accommodations at luxe spots like Hotel Healdsburg, but not like Windsor Water (sorry, you're not gonna get wet)
Come Fall, G&G'll take its show on down to the Santa Ynez valley outside of Santa Barbara in search of warmer weather -- a passion most people in SF can understand, though it takes them a little longer when you're acting it out.