NASA Will Stream a Crew Launch From Earth & Dock at the International Space Station Thursday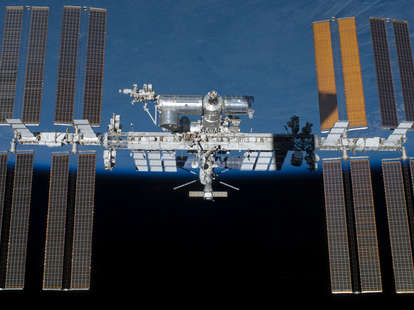 Three astronauts are about to head to the International Space Station (ISS) after being quarantined for 14 days in advance of the launch. On April 9, NASA astronaut Chris Cassidy, as well as Anatoly Ivanishin and Ivan Vagner of the Russian space agency Roscosmos will take flight from Kazakhstan with a final destination in Earth's orbit. They will become Expedition 63 aboard the ISS.
NASA TV will be streaming the launch, docking at the ISS, and the hatch opening so you can see every stage of the flight. (All three stages can be streamed in the video player below.) The coverage will begin at 3am EST on April 9, with the Soyuz spacecraft scheduled to launch at 4:05am.
The next phases will take place at a more reasonable viewing time for viewers in the United States. The docking will start at 9:30am with the actual docking expected to happen at 10:15am. Then, the hatch opening is scheduled for noon. That's when the three travelers will meet with Expedition 62 still on the ISS. That crew includes Andrew Morgan (who actually launched with Expedition 60), Jessica Meir, and Oleg Skripochka.
The quarantine procedure the astronauts underwent is a standard procedure but became even more important amid the COVID-19 outbreak. "This process ensures that they aren't sick or incubating an illness when they get to the space station and is called 'health stabilization,'" NASA wrote in an update about COVID-19 and its missions.
The three astronauts of Expedition 62 are scheduled to return to Earth on April 17. Cassidy, Ivanishin, and Vagner will be the only three onboard the ISS until mid-May, at the earliest, when NASA and SpaceX will launch a crewed test flight of SpaceX's Dragon capsule. That will be the first time astronauts have launched from the US since 2011.
Sign up here for our daily Thrillist email and subscribe here for our YouTube channel to get your fix of the best in food/drink/fun.