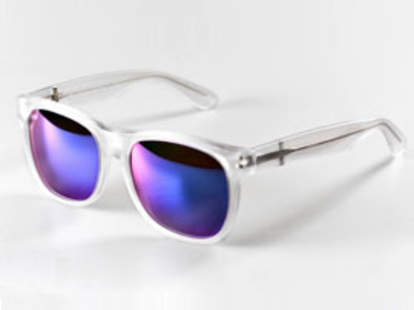 Like a zebra print Snuggie, this month's Best Of from around the ever-expanding Thrillist Network drapes you in shameful decadence, and zebra.
Emailed to Philadelphia: Super Sunglasses Handcrafted in Italy and fitted with German-engineered Zeiss lenses coated with a thin, scratch-proof film, Supers're acetate-framed shades available in a range of styles and multiple color graduations, because Spring Green is well and good, but when you get into Burnt Sienna, you can take on the world! Get more deets on these stunna shades here
Emailed to Los Angeles: House Arrest Twitter Confined by the state for 20 days in his palatial Riverside apartment -- and dismayed by entertainment options highlighted by Dylan McDermott's "Dark Blue" on TNT -- Rydar has decided to grace the world with pithy updates on his daily doings, and daily not-doings. Find out more about the web-savvy law-breaker here
Emailed to Chicago: 708 Cycling Inspired by the experiences of a 20-year veteran bike messenger on the mean streets of the Gateway City, 708 aims to create eco-conscious, road-worthy gear equally capable of withstanding a mean spill on your morning commute and a mean spill of your morning coffee, which you take black, of course, because you're craaazzzy. This stuff is way cooler than that line of curling-inspired apparel you considered launching. Check it.
Emailed to New York: ExoVault iPhone Cases Handmade by two Brooklyn sculptors, these blockish, steampunk-like iPhone cases are individually custom-crafted for 2G, 3G, and 3GS models, sport slots that allow for heat dissipation/reception/jacks, and come in two base varieties (silver aluminum and brass) or in titanium -- which'd afford total protection, if it weren't for all the holes for heat dissipation/reception/jacks. Seriously, these are awesome
Emailed to Boston: F. Rock Bags Just launched by a Boston-based former money manager with a creative writing degree (you guessed it!), this new line of eco-friendly, custom-made "carryalls for men" includes high-end messenger bags, padded laptop cases, and wallets that blend urban flair w/ traditional lines and are handcrafted from recycled funky plaid/conservative patterned menswear fabrics, locally made metal closures/hardware, and reclaimed leather scraps. Put that JanSport down and read up on these man-satchels