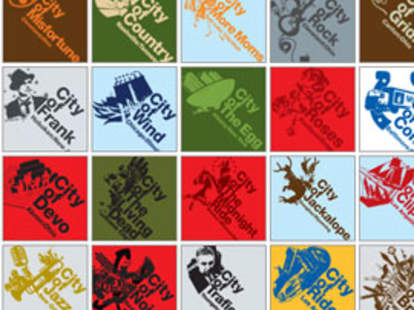 Moving to a new city mandates assimilation, leading you to change your drivers license and drop one annoying accent for another (hella) -- but hometown pride will always burn deep. Sear your duds with those flames of respect, at Campfire
Camp's an online store specializing in print-to-order, solid-colored fine jersey cotton tees adorned with state- and city-centric designs, letting everyone know that the local pizza style can woo your stomach, but will never really clog your heart. Options range from simple fare (state outlines numbered 1-50, colloquial resident nomers like "Bay Stater" and "Kentuckian"), to the quirky City Of series, a slanted 45-degree design pronouncing a horn-filled New Orleans the "City of Jazz", and a Liberty Bell'd Philadelphia the "City of Crack", a coy pun infringing upon Gary, IN's only claim to fame since the Music Man died from gonorrhea. Baseball teams get local nickname props in the Pastime series, with plain-font, team-colored shoutouts like "The Royal KC", "Brewcrew", and "The Motor City Kitties", a groupie-sounding designation that suggests you're totally doing Miguel Cabrera.
Since not everyone has unending love for home, Camp offers a range of shirts to show off your humor, i.e., the giant-steak-on-tiny-body "Meathead", the faceless "Hair" series pimping coifs from Agassi, Bird, and Huey Lewis, and old calculator standby "Boobless" -- because wherever you come from, there you are in 4th Grade.