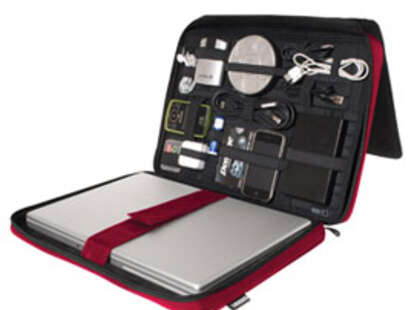 Though most laptop cases can successfully protect your precious computer, stowing your peripherals typically results in a Gordian Knot of cords, headphones, and even smaller, more powerful computers. Seriously, they're having sex in there. Solving the riddle, Cocoon Innovations.
Just now throwing open the doors to their e-shop, Cocoon's compu-totes feature a patent-pending grid system capable of seamlessly adjusting to secure any conceivable array of extras, eschewing the typical cluttered pouches/pockets designed to fit specific items like notepads, pens, and other things you'd use if you didn't already have a computer. Said grid's a weave of dozens of rubberized elastic bands that snugly grip your gear in place; just figure out which width strips'll hold each of your items and which layout arrangement works best for all your differently sized stuff, and just slip 'em in there, functionality that'll support Hume's theory of compatablism, even if he's still a total d-hole. The current line employs the grid in a variety of cases that'll accommodate up to 15" of computer, including a beefed-up neoprene sleeve that zips and can stand on its own; a handle-n-shoulder-strap'd, shock absorbent molded EVA model w/ removable Velcro-closure sleeve; and a perforated, molded rubber carrying case that holds the aforementioned neoprene sleeve like a beach tote, because once you've uncluttered your laptop case you'll want to make taking your computer out of it a multi-step process.
As an added benefit, Cocoons come in handy during air travel: once a case is unzipped and laid open, the grid system rests opposite your laptop, meaning you can send it through the X-ray machine without removing it from the case, leaving you more time to worry about your Gordian Knot of Spanx.