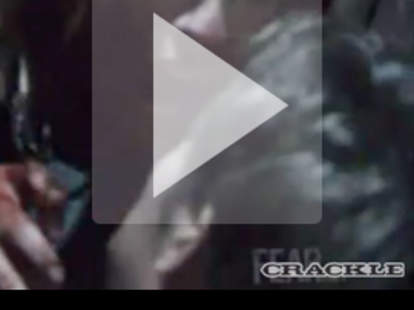 Just because you waste your workday watching stuff online doesn't mean you're not highly discriminating about what you waste your time watching. To make the most of your "down time", check out Crackle.
Crackle's a free video site loaded with everything from talk show hosts interviewing America's most beloved man (Corey Feldman, who has a new concept album?), to reality shows about America's most hated men (tow truck drivers). The meatiest categories:
Comedy: Peep the crime drama Hot Hot Los Angeles ("You may be the law, baby, but I am the Los Angeles! Get out of my beach house!"), or The Line -- starring Superbad's Bill Hader, it follows two dudes eternally waiting for a sci-fi movie opening, never breaking the "five minute rule" even if it means losing paternal visitation rights, or watching David Cross splash bucket-water on his naked, hairy body.
Horror: From Buried Alive (wherein each protagonist is buried in a coffin) to 30 Days of Night: Blood Trails -- about a N'Orleans vampire hunter who discovers that "severed" isn't the best state to see your girlfriend in, and "We intercepted a message on the Internet!" isn't the best way to explain why you're covered in blood.
Music: Vincent Moon's "Take-Away Shows", where bands play acoustic from random locales, from NYC street corners to the Texas desert. Live South By Southwest feeds. Videos, live performances, and interviews with undiscovered indie acts, plus video stations featuring everything from hip-hop to electronica to metal (put your hands together for...Hatebreed!).
For something more familiar, Crackle also carries classic movies (hell yes you're down with Ghostbusters) and "Minisodes", where TV masterpieces from TJ Hooker to He-Man to original episodes of Dennis Leary's Rescue Me are compressed into 5-minute, all-action shorts -- a brilliant way to increase the productiveness of your non-productivity.