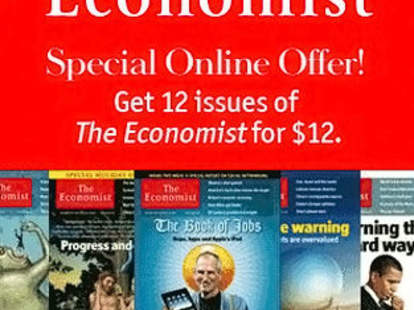 With the exception of learning the excruciatingly minute details of your own conception, there's no such thing as being too well informed -- and since 1843, no source has provided greater insight and analysis on the news and events that define us than The Economist.
Since about...now, you can get that insight and analysis for the absurdly low online introductory offer of 12 issues for $12.
That is correct, Thomas Hardy: for the money it takes to buy a sandwich, or two sandwiches, provided the sandwiches are fairly basic, with no imported meats or cheeses, you get three months of expert briefings on everything from the Tea Party's boiling over, to the Orange Revolution's simmering down. You'll also have access to The Economist in Audio, allowing you to catch up on the world's most important developments on-the-go, or laying in your bed with your eye-mask on as you desperately attempt to block out all that stuff going on in the world.
To get those 12 issues delivered to your door, just click here, and you'll soon be privy to the stories behind pretty much everything -- except, thankfully, the particulars of how you came to be a human being on this planet, reading this exceptional magazine.