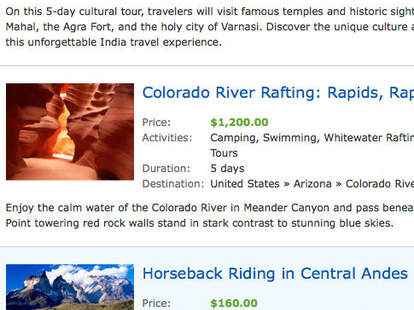 If you don't have high standards, things can get ugly in a hurry, like your girlfriend for example, and, ummm, well, frankly that's the main one. Providing high standards for travel, ekoVenture
Just launched outta Frisco, eko's an online destination for researching, booking, and sounding off about all manner of dope, experiential travel packages solicited from tour outfits all over the world, each of which is carefully and stringently vetted, because you enjoy waking up with your kidneys. Both of them. The site's 10,000+ trips are super easy to browse by geographic location/price/trip type, and range wildly from 4-day Siberian snowmobile tours to 30 weeks of African camping, bungee jumping, white water rafting, etc; click a trip for photos/videos, detailed itineraries, plus the option to inquire with the trip supplier or book right then and there..."Siberia, here I coooome!" Also core to eko's sweetness are its social elements: seasoned travelers are encouraged to become "gurus", who're essentially power users who blog about where they've been, and who you can hit up for personal travel tips if you're thinkin' of doing something they've done, e.g., cycling through Vietnam like Brian Vierra, or climbing the GG Bridge's north tower at midnight like Chris "Look At Me I'm So Awesome" McNamara.
Booking through eko also feather's your cap with the knowledge that 10% of your coin's donated to a charity in some Third World country that needs all the help they can get, like you when choosing love interests, or well...let's just start with that.