The Gillette Hydrator + Body Wash Lineup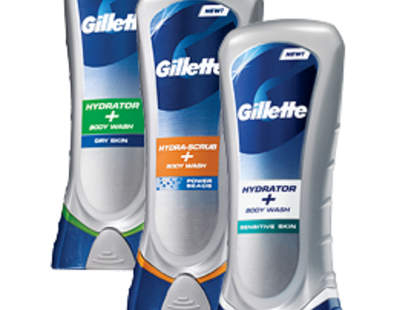 Cleanliness might be next to godliness, but spending more than a few quick minutes on cleanliness is next to obsessive-compulsiveness -- next thing you know, you're known around the office as the guy who sanitizes other peoples' hands. Get very clean, very quick, with The Gillette Hydrator + Body Wash Lineup.
From the guys behind the most trustworthy facial-steel in the business, Gillette's new all-in-one formulas provide a fast, effective means of freshening up the temple/ziggurat/drive-thru taco hut that is your body. Loaded with 3X more hydrators (molecules that lock in the body's moisture) than other leading brands, the formulas are broken down into Dry Skin (thick lather cleans without drying), Sensitive Skin (employs a soap and dye free mix), and Hydra Scrub, whose power beads help remove dry skin from your body -- because everyone knows the Jack Palance look went out the day The Legend of Curly's Gold went to video. Even the bottle's built for maximum effectiveness: an easy-grip upside-down design lets gravity keep the contents ready to squeeze out, so you can minimize shower time, and maximize time with the woman you take showers for -- your dental hygienist.
To check out Hydrator + Body Wash and the rest of Gillette's grooming arsenal, just hit Gillette.com. Your body deserves it, even if it does look like a Pup 'N' Taco.