Nordic cutlery made the old way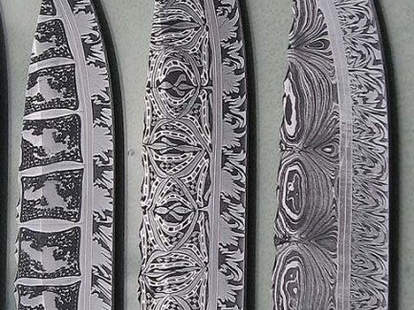 Modern weapons are efficient, but frequently lack the artistry of their forebears, which is probably why Mase named himself after a club but elects to bring a gun when he goes to one. Channeling the artistically murderous Vikings: Johan Knives.
Meticulously handcrafted on the Swedish coast by a knifemaking "addict", JK's bad-ass blades're constructed using ancient techniques and alloys developed by the Men of Moss, with a few prehistoric animal parts he just "come[s] across", so...he's constantly boning? Outrageously cool highlights:
Golden Mosaic Fighter: Resembling a dagger with a super-detailed 14" blade of "Mosaic Damascus steel" (i.e., welded w/ an exterior pattern) that's been dyed in various colors, and rocking a handle sculpted from prehistoric marine mammal ivory thats adorned with 3oz of gold accents, a look popular with Paul Wallrus.
Fatboy: A 5" double-bladed foldout (both facing the same direction) forged w/ a wildly ornate, colorful "fantasy design" & featuring openers set w/ diamonds, plus a steel handle sheathed in a chunk of mammoth ivory (useful for fending off any wooly bullies).
Muskus: Modeled after an ancient hunting knife, the 4" blade of thick, multilayered steel has an undulating top edge, a rust colored glaze on the sharp edge, and's attached to a handle made from the horn of a musk ox -- a musk have for this holiday season.
You can request that he redo any of the blades in his gallery or go from the ground up with a custom job -- bring it to the club and can't nobody hold you down...unless they have a gun.