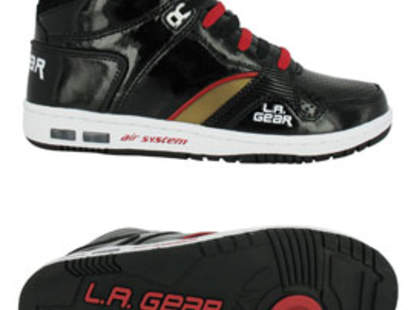 Through no fault of your own, there were plenty of awesome crazes you missed thanks to being too young, from huddling around the TV to find out who shot J.R., to getting all fired up about Ronald Reagan (don't worry, that one's back). Giving your feet another chance, LA Gear.
Once the foot-sheath of choice among proto-sneak-freaks, Gear's reissued a handful of classic kicks from the late 80's, with colors and materials slightly updated, like Paula Abdul, minus the crippling insanity. Leading the pack's the Fire High, a white-bodied kick with a black tongue, black corduroy ankle collar, and your choice of a blue, red, or yellow colorway for laces and accents, such as the twisted serrated leather strips on both sides that resemble a row of gills (ribbed for the extreme displeasure of those upon whom you are dunking). Also resurrected's the Star Shooter High, which rocks a perforated toe box and a basketball logo on the tongue (in eye-catching black w/ red 'n gold accents, or the more dorktastic white/gray), and the loud-as-can-be K.A.J. (in silver or gold), the ultra-hi-top that let thousands of kids pretend they were Kareem while practicing...historically ungainly kung fu?
For those not pining for 80s fashion, Gear's planning to deliver a similar re-release of their 90s LA Lights line -- an awesome craze you enjoyed the hell out of, through no one's fault but your own.