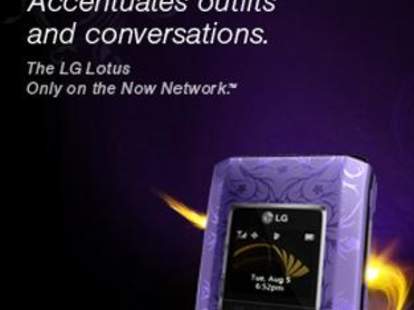 While it'd be nice if your phone was dedicated to what's become your sole form of communication -- relentless texting -- nobody wants to walk around with something the size of a typewriter in their pocket. Get sweet textability in a small, aesthetically awesome package, with LG's LX600 Lotus™, just unveiled today.
The Lotus comes equipped with a full QWERTY keyboard and 2.4inch display screen for freakishly fast texting, email, and IM, functionality they've managed to squeeze into a hyper-compact square flip; the model's available in purple or black, with aesthetics strong enough to've nabbed a Project Runway winner as spokesman (you know, Christian Siriano? The "Hot Mess" guy? No?). To further ease finger-strain, the Lotus offers Sprint's One Click internet access, making it a breeze to let your social networks know your current status is "In serious relationship with new phone". The Bluetooth-ready Lotus also packs in the essentials: 2.0MP camera & camcorder, integrated music player & store, and built-in GPS navigation, eliminating the need to store "Please help me, I'm lost and ever so scared" into your preset shout-outs.
The Lotus only runs on Sprint, who's offering an ultra-affordable plan with unlimited text, picture, and video messaging starting at $49.99. Talk time's also included in the deal -- though if you're going to do something as quaintly old-fashioned as making words with your mouth, why not just write a letter?