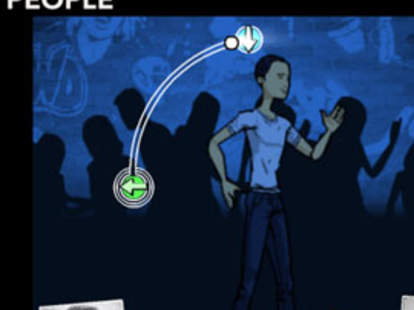 Clubs may promise nights block rocking tunes and flooded dance floors, but the long lines are a drag, and Sebastian Janikowski just won't stop roofie-ing you. Bringing only the best aspects of clubbing to your cloistered computer, Loudcrowd.
Created by a group of web/gaming vets including ex-Harmonix (Guitar Hero) folk, Crowd is a virtual nightclub with playlists from high-profile DJs mashed with e-mingling-oriented music games, bringing the social interaction and musical eye-opening of a night out to the crippling loneliness of the Internet. Everyone on the site hears the same soundtrack, crafted of indie rock/dance tunes from acts like Justice, The Juan MacLean, and Kid Sister, and special unreleased tracks from The Twelves, whose name totally references Aleksandr Blok's controversial poetic response to the October Revolution, and not the fact that they're 33% more dressed up than the next dressiest band. There's also a virtual dancefloor populated by users' avatars, whom you can select to receive the vicious pwnage of your dance skills via a beat-matching game based on precisely timed arrow-key mashing, earning you points redeemable for fly virtual gear/song requests, and optionally accompanied by e-come-ons, because even anonymous clumpings of pixels want you inside me.
Crowd also sports a game that replicates spinning the 1s and 2s, and more gaming options're on the way, along with new guest DJs and fresh tracks, a robustness of club environment that only suggest the Loudcrowd dudes are equally terrified of actually going out and risking Janikowski's love again.