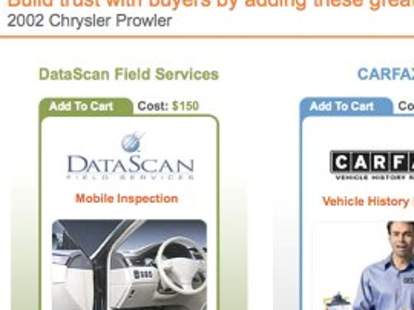 Getting everything you need in one place is a great business strategy, as Wal-Mart's proven by becoming the spot for everything from underwear, to frozen food, to wanting to kill yourself for buying underwear and frozen food at Wal-Mart. Applying the same strategy to selling used cars, Mota.
Designed as a one-stop to sell your whip quickly and for more green than you'd get via trade-in, Mota'll auto-create your used car listing via a simple-yet-comprehensive line of questions, give you the option to have your ride vetted by professionals, then let you select how broadly you want your ad distributed amongst their vast network of partner sites, which they just pray don't find out about one another. To get things rolling, give Mota deets (make/model, condition rating, basic mechanical history, etc), and it'll spit back a recommended listing price determined via similar-vehicle auctions/classifieds and the KBB trade-in/private seller prices; next, you can opt to get a Carfax report and/or a vehicle inspection by DataScan (who'll conduct a 110-point inspection right in your home/work driveway, plus snap 20+ photos to go in your listing), or include your ride's VIN, which Mota insists shows that "you are a trustworthy and responsible owner", proving they haven't gotten to know you all that well. Next, pick where you want your listing published, from just free sites (GoogleBase, Oodle.com, Vast.com), to flat-fee options like a 60-day post on Cars.com, a run-'til-it-sells option on AutoTrader.com, or the "Ultimate Sell" combo of both; once it's live, buyers can contact you directly or make an offer on your listing page, and thereby begins the bidding war for your BRAT.
If you're also shopping for a new car, they've got a handy search tool for buyers, which lets you browse its sellers based on auto deets, location, and price -- kind of like "Save Money, Live Better", but true.