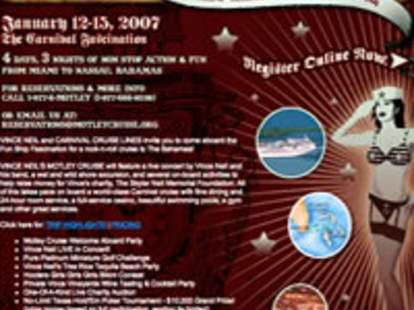 Cruising among lush tropical islands is attractive in theory, but in reality involves boredom-eating, shuffleboarding geriatrics, and Macarena competitions. Avast wild, shameless seamen: board the Motley Cruise.
The fevered vision of host and Crüe frontman Vince Neil, the first annual MC will steam from Miami to the Bahamas aboard Carnival Cruise's gigantic and optimistically named "Fascination". In addition to 4 days/3 nights of big-boat amenities (drinking, gambling, dining, drinking, pools, gambling, waterslides, drinking, dining, drinking), you'll also get this additional procession of crazy that you might just need one more time before you die
Day 1: Your first day aboard features a "Hooters" fashion show, where the girls'll shed their prudish orange neon shorty-shorts and tank tops for something less classily demure
Day 2: At 10 p.m. Vince's band takes the stage to stoke your heavy metal fire, which has been a dim ember of nouveau disco
Day 3: Spend the afternoon ashore at the Tres Rios Tequila Beach party for the Hooters Bikini Contest, where you'll once again marvel at the girls' chesty figures and speculate as to which five will be crushed beneath Vince Neil's bloated form later that night
Day 4: The $10,000 Texas Hold 'Em and mini golf tournaments are prime opportunities to prove you can still retain basic motor skills after two days of Hooter'd drunkeness. Yes, there's a mini golf tournament
Spots are filling quickly, so get on the ball. Miss out, and the next time you're on a cruise with Vince, he'll be shuffleboarding across the deck, doing body shots off his own colostomy bag.