9 sweet rides that don't come off an assembly line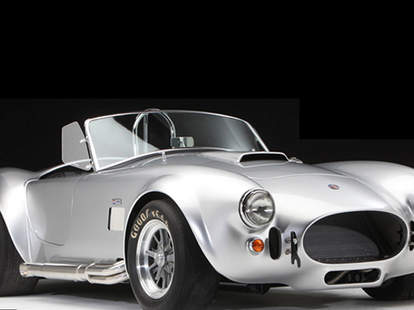 These nine rides have two things in common: they're all pretty sweet ways to get from point A to point B, and none of them can be bought at a dealership. Some you can buy, some you can build, some you can have someone else build for you, and some you can only dream about when your Lake Havasu Spring Break ends, and you wish there was some way you didn't have to walk from your boat to your car. Rally Fighter & Build Experience Over the course of two three-day weekends at Phoenix's Local Motors, build your own rally car under the supervision of people who actually know what they're doing and who'll graciously let you tell your friends that you actually knew what you were doing
Factory Five RacingBuilt on years of precision engineering, Factory Five was born from disappointment -- disgust even -- at the way even the best-looking kit cars performed, like when the really handsome kit football player Jim Everett totally sucked in the playoffs. Relatively affordable, they deliver power and quality that makes every other kit look kitsch.
The DBR1 Replicar Taking a Le Mans-winning car which goes for a retail price of $32 million and making it available starting at $32 thousand, Roswell, GA manufacturer Exomotive lets you play with the big boys without having to break out the big bucks, at least until you foolishly bet that your Replicar can smoke their Realplicar
Hauk DesignsThis Pennsyltucky concern understands that your vehicle must not only dominate every obstacle that dares stand in its way, but also be street legal so that the domination is witnessed by more than just dirt, rocks, and pop-tops from 1980s beer cans
Gullwing America's P/904 Carrera By recreating the Le Mans-winning P/904 Carrera with a 2nd-generation Boxster under the hood, Gullwing America has basically built a time-traveling vehicle that's totally going to piss off DeLorean cultists and nerdy-ass steampunks.
Critter GittersGiven that one of their clients is the King of Dubai, this League City, TX hunting-rig outfit better know how to separate man from animals with style. The Critter Gitter 4, for example, features 48-inch tires, baby alligator upholstery, and a margarita machine for people who are rich, but aren't the King of Dubai
TM Cars Concept 30This Hungarian firm is led by an Italian designer, and revamps German E30 BMWs to look like cars from a 1980s American sci-fi epic. And globalization is bad because...
BoaterhomeThe perfect car to go with your beachfront Nevada home in the world of the future
The 4X4 CamaroIn this seven minute testament to the off-road genius of Jerry and Donny Vroon -- the father-son team who built this beast -- one truly learns the meaning of "bitchin' Camaro".