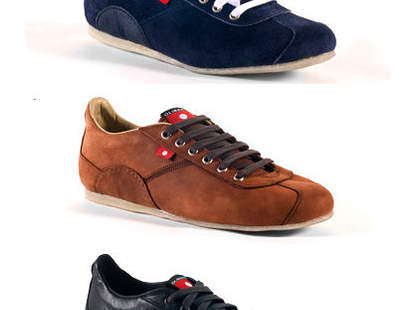 Africa's a pretty popular place to get involved these days, from Bono starting poverty-eliminating charities, to Oprah building schools, to Madonna stealing all the kids who're meant to go to them. Now do your part via sneakers, with Oliberte
The first brand to market premium footwear completely made in Africa, Oliberte's helping empower locals by training/paying them to craft stylin' shoes using materials sourced from around their continent, with designs inspired by street and European culture, so don't be shocked when your sneakers take up smoking and start tagging your apartment. The collection starts with the Rovia (in navy, white, red, or cream & tan), a driving-shoe-esque number with an Ethiopian cow leather upper, goat leather interior, and Liberian crepe rubber soles; they've also got two slightly different versions made using "nicer" materials, like the Rovia-L, in grey nubuck or "antique brown", and the Rovia-S, made exclusively in shiny black sheep leather, which undergoes a complex tanning process The Situation would astutely describe as "TTT". Things get rugged-er with the ankle-high "classic desert boot" Abido available in navy, grey, or brown with a supple goat leather lining and special recycled crepe soles they refer to as "the grill", and Paul Wall refers to as "the only reason you even know who I am"
To quell your debilitating eco-conscience, once your pair's all worn out Oliberte'll arrange to have them shipped back and recycled into new stock, because we are living in a material world, and they are a material girl.