Footwear to suit your suit...or not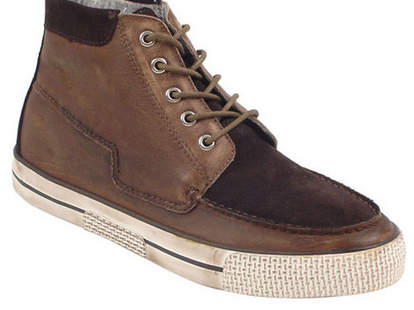 Fashion success can be built on versatility -- think of those sneakers that can turn into roller skates, then think of something that doesn't suck and supports that statement. For footwear that's versatile without wheels: Rockadelic.
From a fashion vet who grew up under the tutelage of her father (who helped launch a family footwear brand 30+ years ago), Rock designs its kicks for the grown up who lives in sneakers but "sometimes has to dress up", so...Plaxico Burress? Lined with special memory foam, steez starts bootish with the sleek, laceless, dual-zip Owen, avail in black or mahogany leather, and the rugged oiled-canvas Gerard, whose side-zip is covered by six leather straps; mid-top options, meanwhile, include lace-ups like a tan leather Chuck Taylor joint with a dark brown suede toe cap called The Lick, which Rex Ryan won't do to your feet until you take them off. So topical, so gross. Loafer-wise, there're four colorways of a dressed-down, suede-toe-cap leather wingtip known as the Kellan, plus a pair of oiled canvas bluchers modeled after those worn by 1950s postmen, who apparently needed quality shoes to run away from all of the illegitimate children they fathered.
They've even got a few requisite slip-ons, including the Vans-esque Explosion, and a sneakerized boat shoe with an "athletic-inspired sole"; interesting, as boating really isn't a sport, but hey, you're the one on roller skates.