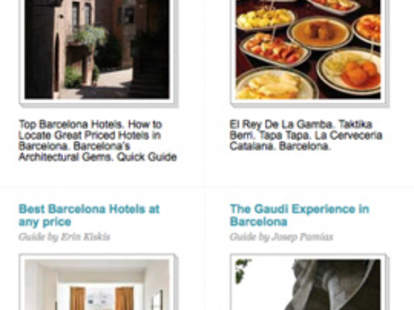 Lists have many uses, from ranking the best athletes or restaurants, to prioritizing your agenda for the day, to reminding you what to get at the supermarket, which, if your friends got their hands on it, may include "tampons", because they're hilarious. Taking lists to travel planning, Ruba.
Founded by two online venture veterans who wanted a place where avid travelers could share and inspire each other, Ruba lets users compile and post their favorite hotels, restaurants, and attractions in an uncluttered, list-style format, and easily create an itinerary from others' inspiring posts, a beautifully simple system predicated on Detroit-lovers not using computers. Lists can include as many items as an author chooses, and each attraction's represented by a thumbnail photo, title, and brief descriptive excerpt which you can click for a full write-up, as well as a map showing the location; users can create lists under any organizing principle they choose, letting you scout the Top Places to Hike in Great Britain, or the Top Restaurants In Phrom Phong, but not the Best Spots To Listen To Kenny Loggins, since the answer is clearly everywhere. To prep for an upcoming sojourn, you can create an itinerary and click "Add To My Trip" on any spots you'd like saved on your page for later printing; Ruba's also contracted "experts" to ensure that popular locations have enough content to be useful -- though no amount of experts can turn things around for Albany.
To let others bask in your worldly glow, all you have to do is pick the subject and location of your list, designate the name of an individual place (addresses'll get auto-generated), select a pic from their stable or upload your own, and then write up your description, because how else will people learn about the best supermercados in Cabo to find Los Tampax?