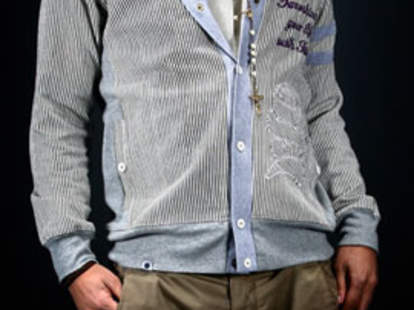 To succeed in America, Japanese businesses are best served by immersing themselves fully in the culture firsthand -- or watching the Michael Keaton/Gedde Watanabe classic Gung Ho 50 times. For gear from a Japanese guy who's put in the stateside time, check Sabit NYC.
Begat by a Japanese designer who found his calling in the US as a honcho at Ecko, then started a Japanese brand of boldly decor'd streetwear, (but, um, did it in New York), Sabit takes inspiration from Tokyo street culture to birth gear with "a unique spirit of optimism", so at least your pants'll be convinced they just make you look big-boned. Newly-dropped torso swaddling include buttondowns like a double-pocketed cotton number (in a handful of checkered gingham colors, or thin "engineer stripes") tagged with two hunting-style patches on either breast, and a few multicolored polka-dot prints that feature Western-style yokes, which prove that two wrongs do make a right. Heartier goods include colorblocked hoodies that wouldn't look out of place on the Fresh Prince, and cardigans, like a dotted French terry piece in either black or gray (with the latter rocking thick purple & blue stripes on either side of the placket), and the red, white, & blue pinstriped "NYC" -- these cardigans don't run.
The shop also pimps schloads of goods from previous lines, including boldly emblazoned tees, designer denim, and even a handful of shorts, always dangerous for anyone rocking a Long Duk Dong.