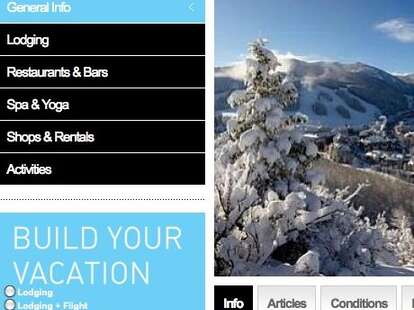 Nothing beats a great ski trip, but with so many options out there, it's tough to properly pin down the optimal travel plans, hotel accommodations, and ER for post tree-in-eye reconstructive surgery. Map out the perfect wintry getaway, with SkiResorts.com.
Just launching today, SR's a free, all-in-one hub dedicated to smoothing out your next ski/snowboard trip deets by gathering info, articles, and reviews on resorts, rentals, gear, food/drink, and conditions for 50+ mountains across North America, and also providing booking services from expert travel agents plus dispensing advice from in-the-know locals, who'll tell you exactly which lodge you should drink in all day while wearing a funny sweater. Start by browsing basic mountain overviews, which include trail maps, conditions, transport info, and photos, plus reviews of area lodging, dining, shopping, and rental options from various industry publications, or explore constantly-updated, locally penned content for ideas, i.e., "How To Dine In Telluride" or "The Best Masseuses in Tahoe", although it's left entirely unclear if they're willing to finish things off with the traditional apres-massage. Once you've settled on a destination, check the Packages & Deals page, which compiles SR-curated trips for a variety of budgets/tastes, or build your own getaway using their database of mountains/resorts to book everything from hotels to rentals; they'll also scour the web to help you snag cheap lift tickets, or if you're afraid of computers, call SR and their network of ski-trip-specific travel agents'll set everything up as you repeatedly assure them you're an "expert skier", even though they didn't ask.
Once your trip's set, swing to SR's growing section of recommended, discounted gear, from the best boots, to skis, to goggles, although you really don't need those anymore.