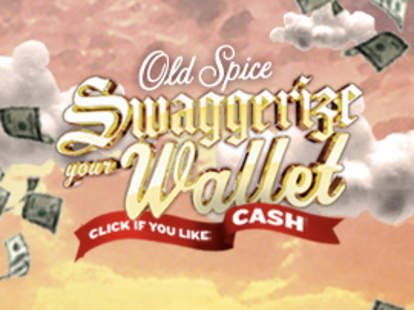 You are a man who rises to the occasion. You are also a man who could use a few hundred bucks. Finally, you are a man who regularly uses deodorant. Put all that together, with the Old Spice "Swaggerize Your Wallet" challenge. That's right: win any of several Swaggerize challenges this summer, and your wallet could end up so fat, you might need to buy another wallet, or possibly even a satchel. The current lineup: Juggle Some Swagger: Submit a video of someone juggling at least four Swagger products -- the more, the better. Judges will hand their favorite entry $1000, enough to send you to...juggling camp! Spell SWAGGER on Some Chests: Submit a personal photo of seven adults attending a televised sporting event, each with one SWAGGER letter painted on their bare torso. Favorite entry gets $2500. "Adult" need not be representative of emotional maturity.
Give Your Sports Team Swagger: Submit a personal photo of a rec-league athletic team named the "Old Spice Swaggers", with said name printed on the front or back of its uniforms and legible in the image. Favorite gets $1000, enough for a season's worth of beverages, or hundreds of copies of that Fred McGriff instructional video. Swagger Through a Parade: Submit a video of a parade float decorated with a giant stick of Swagger deodorant, a replica of a human skull, and a narwhal. Winner gets $2000, and the deep, abiding satisfaction of knowing what a narwhal is.
Sweet, no? For submission guidelines and deadlines, click here. Here's hoping you perform like a winner, and smell like a champion.