Tigers Rule India's Most Majestic National Park
Look into the eye of the tiger at Tadoba-Andhari Tiger Reserve.
Welcome to
(Inter)National Parks: Adventures in the Global Outdoors
, where we transport you to the world's most incredible protected lands, nature reserves, and marine sanctuaries, from the slopes of Western Canada to the vast grasslands of Botswana to the fjords of New Zealand. For more on these far-flung natural wonders—plus travel tips and expert interviews—check out the rest of our coverage
here
.
Watching three young tigers drink from a watering hole might seem like a "Pinch me, I must be dreaming" kind of moment, but at Tadoba National Park in India, this is just a normal, everyday occurrence. In fact, Tadoba has around 115 tigers, among the highest concentration of these big kitties found in India's tiger reserves, and according to Wild Trails India, the likelihood of seeing a tiger in Tadoba National Park is almost 80%.
Tadoba gets its name from a mythological story about a man who became a god. According to folklore, Taru was a Gond tribal leader who encountered a mighty tiger at a lake near his village. A fierce battle followed, and the story in these parts is that Taru defeated the tiger and went on to become a god called Tadoba. The villagers erected a shrine in his honor, and the lake, along with the surrounding forests, were named Tadoba. The Gonds continued to rule this area for several centuries until they were overthrown by the Maratha Kings in the 1700s, followed by the British a century later. Tadoba's forests and grasslands became part of the British Raj and fell under its forest management practices.
Unfortunately, the forests, grasslands, and wildlife continued to suffer well into the 1960s due to overexploitation, extensive cultivation, permit hunting, and illegal poaching. In 1970, hunting was permanently banned and with the establishment of Tadoba-Andhari Tiger Reserve (TATR) in 1993, Tadoba's diverse wildlife finally got the chance to flourish and thrive. Today the park is full of tigers, leopards, sloth bears, and so many other animals. From safaris to boat tours, here are the adventures to have in Tadoba National Park.
How to get to Tadoba
You can reach TATR by road, train, or even air. While there is no direct option, the fastest way is to fly into Nagpur International Airport, which is 85 miles from the park, and then rent a car. Nagpur is well-connected to all major cities in India, including Delhi and Mumbai. You can also take the train from cities like Mumbai or Delhi, and the nearest railway station is Chandrapur, 27 miles from the park. Buses and taxis are available from the train stop to reach the reserve. If you're feeling particularly audacious and want to make an all-day road trip out of it from Mumbai, hop on the multitude of Maharashtra State Transport public buses that get you close to the reserve.
More important than how you get to TATR is when you get there. While the reserve is open year-round, the infamous Indian monsoons start in July through September, and trust us, getting caught in a torrential downpour while desperately looking for tigers is no fun. Additionally, the reserve has fewer forest permits than in the other months. October to June is considered the peak travel season for the park. You can expect to see many safari jeeps zipping in and out of the reserve. According to avid wildlife enthusiasts, the weeks following the monsoons are the best time to visit, as you will see a lush, green forest that's in full bloom, thanks to the rains.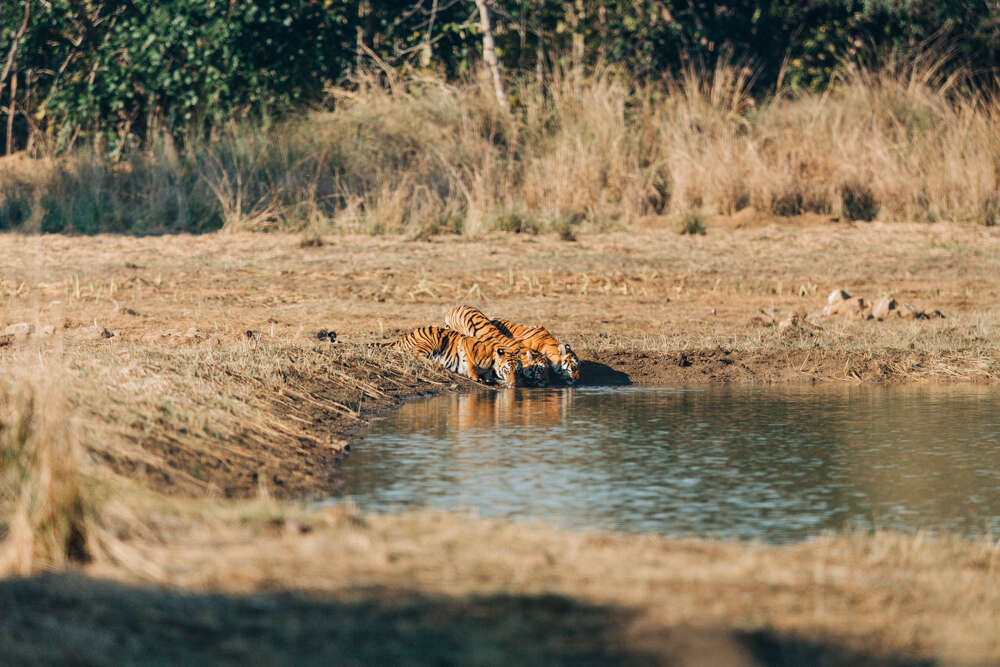 Book multiple safaris—trust us, you'll want to do more than one
While tigers are the star of the show here, you'll find so much else here worth a prolonged stare. The surrounding forests, grasslands, and myriad of water bodies make the area even more special. Groves of bamboo, a key plant in this landscape, supplement food availability for herbivores, keep invasive weeds at bay, and serve as a safe harbor and ambush cover for different species.
TATR has a stunning variety of insect and bird life like the Azure Dartlets, Harvestmen, Oriental Magpie-Robins, Tickell's Blue Flycatchers, and Indian Silver Bills. Wild pigs, sambal deer, nilgai, gaur, and chital keep predators like leopards, dhole, sloth bears, crocodiles, and mighty Royal Bengal tiger coming back for more.
TATR has five zones where safaris are allowed: Moharli, Pangadi, Zari, Kolara, and Navegaon. You can reserve morning and/or evening safaris based on the zone you want to explore. While some argue that morning is the best time to traverse the jungle, as the animals are just waking up, evening safaris have a charm of their own. Depending on the season, you can experience sunset in the jungle, which is always a spectacular sight as the multitude of colors explode in the evening sky and reflect off the many lakes and ponds in the park.
Safari in TATR is booked per jeep which seats a maximum of six people, or a canter for large groups of up to 18 people. If you are traveling solo, you can always join a group as long as there is availability. Safari reservations can be made 120 days in advance, and there are limited slots for tatkal (last-minute) bookings.
Stay in a homestay or luxury tent
Tadaba and its surrounding areas have a range of lodging options that vary from simple homestays to ultra-luxury resorts. Places like Salai Homestay range from $25 to $75 per night. They often include meals and are one of the best ways to experience authentic Indian hospitality. Expect to be greeted bright and early with spiritual music blasting on vintage cassette players and piping hot cups of masala chai to wake you up for that 5 am jeep safari.
Another budget-friendly option is Taaru Vann Resort. For an ultra-luxurious stay that also gives you a chance to explore India's famous wellness experiences, Bamboo Forest Safari Lodge and Tadoba Vanya Villas Resort and Spa are your best bet. Averaging around $400 to $800 per night, they have chalets, villas, and even luxurious safari tents that give you a true wilderness experience.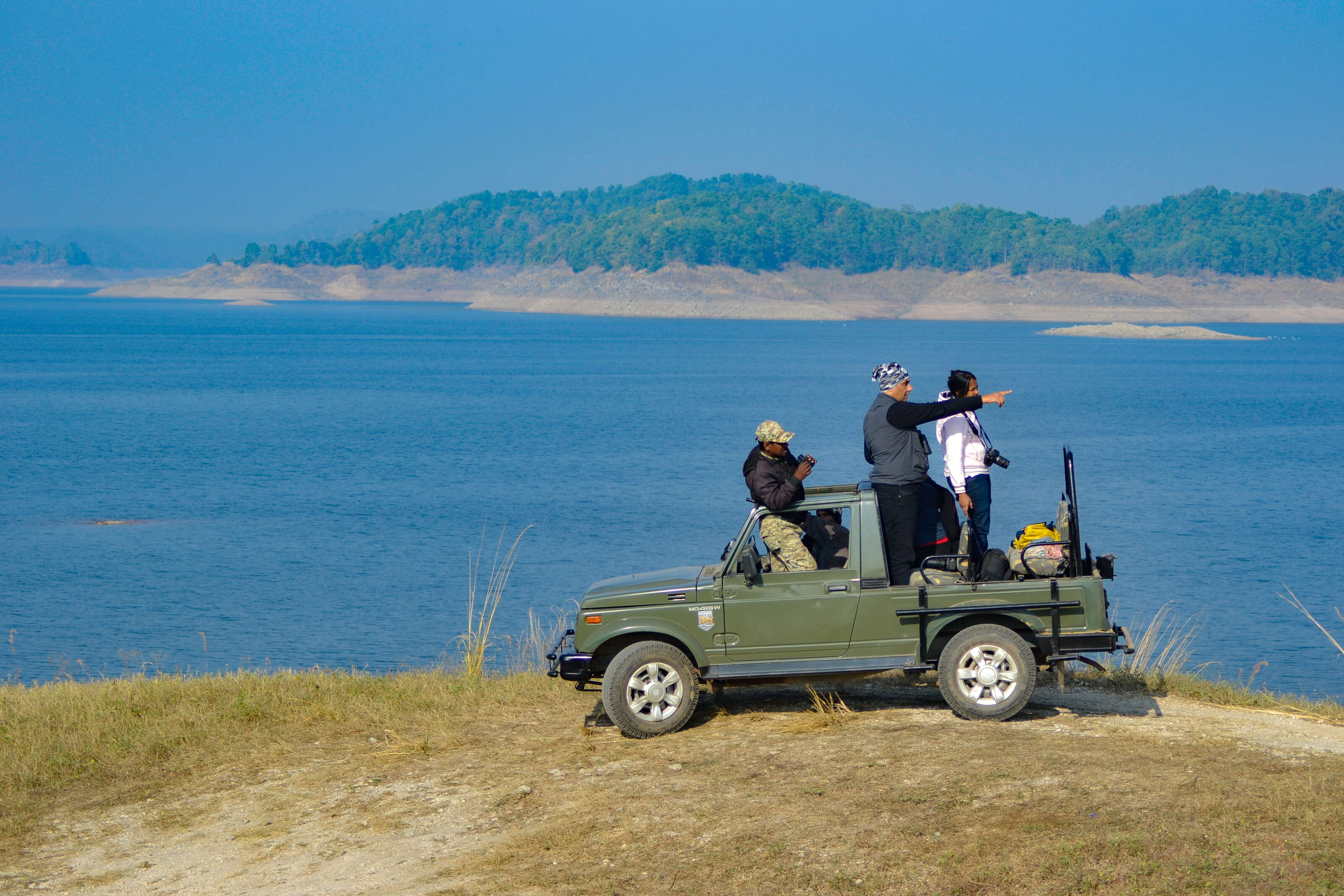 Explore further—while being mindful of buffer zones
If you're staying in Tadoba for a few days, take the opportunity to explore the surrounding villages and towns. Have a meal at one of the local roadside dabbas (restaurants) or try a glass of fresh sugarcane juice that is extracted with the help of a cow—a wonderful respite from the midday heat. There's also plenty to do beyond tiger safaris, like taking a boat ride in the backwaters of Irai Lake to see migratory birds or wandering the butterfly garden in the Moharli Zone, where you can even spot Maharashtra's state butterfly, the Blue Mormon.
If you want a more daring outing, you can cycle in Tadoba's buffer zones for a guided 9-mile ride. But remember to always cycle with a group, since tigers have been spotted in the buffer zones depending on the area and time of day. If you want to really take your experience up a notch, you can opt for an overnight stay in a log hut, where you get to sleep in the jungle. Or try a machan stay, where you stay the night in a tree house by a waterhole in the buffer zones.
Today, TATR is an internationally acclaimed biodiversity haven thanks to the efforts of many different organizations that have worked over the decades to protect it. Sustained conservation—including the creation of undisturbed areas, voluntary relocation of villages from the core zones, grassland development, water conservation, intensive monitoring of tigers, and most importantly, a strong, sustained protection of wildlife—has led to a thriving diverse ecosystem in Tadoba, one that has earned it the distinction of being a "premier wildlife destination" in India.
Ready to hit the park? Check out our tool kit to get started: