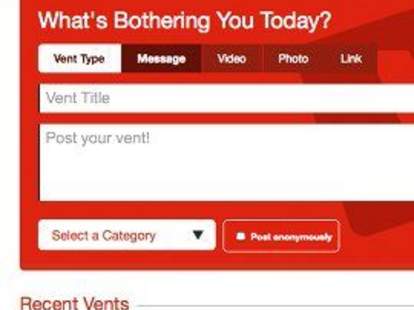 Chronic complainers grow tiresome really fast, but who can even pay attention to them, when work is so boring right now, the weather's miserable, and this soup tastes like three-day old cat piss. Direct your whining to the web, at Ventnation.
Intended as an outlet "to let off some steam without having a restraining order taken out against you", Vent lets anyone post anonymous or bylined tirades of every variety in a whine-friendly forum, then prompts others to comment on, rate, and give advice on rants, like shut up. To get fuming, just sign up, type out whatever's bothering you in the "Post A Vent" box, title it, add optional images/links/video, choose whether you want it posted anonymously, and categorize it using their drop-down menu of the usual suspects (Family, Economy, Business) and more colloquial annoyances like Haters, WTF!, and Drunk Text, the modern-day "Scroll Around Homing Pigeon's Foot That Smells of Mead". Current complaint contributors range from clubbers (from user The Cleveland Steama: "Seriously. They need to develop a device that could scan a person's body and check for STDs before allowing that person to enter a club"), to people who love caps lock and hate sketchy dudes named Alonzo, i.e., "Why is Alonzo Talking To Me, JUST GO AWAY PLEASE, I KNOW WE ARE 'COOL' BUT I STILL FEEL REALLY UNCOMF AROUND YOU", and why shouldn't he, when the man's seven feet tall and fiending for a kidney.
To read up on similar complainers, you can click directly on categories, or get a breakdown of the most popular vents based on their ratings, which you might not get around to because your eyes hurt and your stomach is feeling a little weird from all the cat piss you had for lunch.