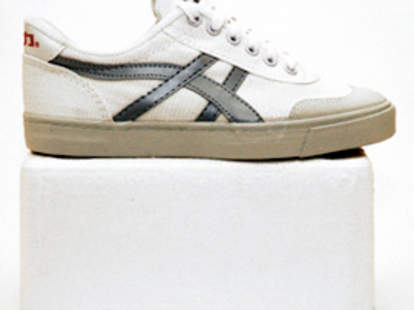 Communism gets a bad rap, but nobody ever thanks it for all it's given us, like Cohiba cigars, easy Poli-Sci classes, and a career for Sylvester Stallone. For one more gift from the Party of Awesome: Warrior Footwear.
Brought back to America by two enterprising students who noticed the shoes' ubiquity while interning in Shanghai, Warriors were born in 1935 as an inexpensive athletic shoe for the masses, but became iconic lifestyle pieces during the 70s-90s, before China opened its doors to international shoe conglomerates, and laborers all went to work for maximum wage in wondrous factories and lived happily ever after. The brand-spankin' e-shop hawks five models (all w/ canvas uppers, PVC details, and vulcanized rubber outsoles), including the World Tour Tennis, a white job with dark green Asics-aping stripes and a beige toe bumper, and the Team Basketball, in white or black, with each getting red stripe details and -- as they're made of canvas -- explaining Yao Ming's foot problems. For white-canvased kicks inspired by sports the Chinese are actually good at, snag either the low-top Lane Badminton, with blue ring detail around the bottom and three blue stripes running from the laces that meet as one at the heel, or the curved-sole, red-and-blue arrow-detailed Street Kung Fu, which unfortunately won't be able to help you once a Kumite breaks out, and you realize you took perfecting your "drunken" style way too literally.
To sweeten the pot, the entire line ranges from $45-$60, and with prices that low, don't forget one thing: a good supply of shoe bags.